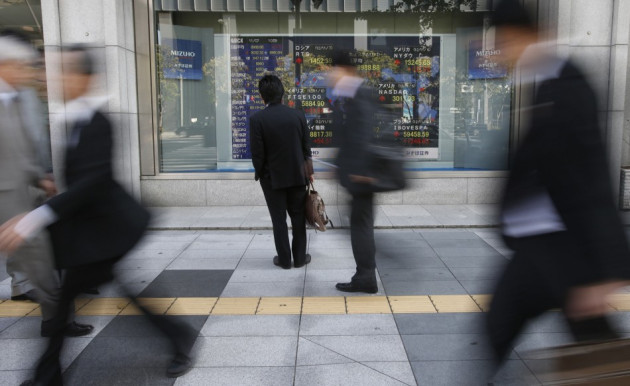 Asian stocks put up a mixed performance in the morning session as the Yen continued its dip against the dollar and Chinese inflation increased more than expected.
The Nikkei was up 1.20 percent or 127.81 points to 10780.45, hitting a 23-month high, while South Korea's benchmark KOSPI slipped 1.02 percent or 20.44 points to 1986.36. Australia's S&P/ASX fell 0.38 percent or 18.00 points to 4705.00.
In China, the Shanghai Composite Index fell 0.47 or 10.67 points to 2272.98. Hong Kong's Hang Seng eased 0.11 percent or 26.84 points to 23327.47.
Wall Street had closed higher earlier with S&P 500 index hitting a five year high after China's trade surplus figures released yesterday boosted global economic hopes.
But Chinese investor sentiments were dampened in the day as the country's inflation rates jumped more than expected in December, denting hopes of further stimulus measures. The Consumer Price Index rose to 2.5 percent year-on-year in the month, above the expected level of 2 percent, showed an official data.
"Rising inflation expectations have put the PBOC between a rock and hard place," said China economists from ANZ Research.
"It is difficult for it to ease monetary policy now, but the current reverse repo operations have become increasingly unsustainable, and even disruptive to short-term market interests".
Japanese exporters rallied as the Yen hit fresh lows against the other major currencies after Tokyo posted a current account deficit for the first time in 10 months in November as weak external demand hurt exports and energy imports climbed due to nuclear power restrictions. The deficit stood at 222.4 billion yen ($2.5bn), the second biggest ever recorded and well above the 3.5 billion yen estimated by a Reuters poll.
The dollar climbed to about ¥88.95 while the euro picked up to around ¥117.95.
Meanwhile, the Nikkei daily reported that Japan's newly elected government cabinet endorsed a stimulus package worth 20.2tn yen in a bid to maximise efforts to revive Japan's ailing economy.
South Korean central bank announced plans to hold interest rates steady for the third straight month at 2.75 percent after a policy meet early in the day, as the economy and inflation levels looked positive. Though it was in line with the market expectations, Seoul stocks edged lower.
Major Movers
Electronic majors gained in Tokyo. Casio Computer Company was up 4.29 percent while Olympus Corp added 4.06 percent. Shares of Sharp were up despite the firm denying reports of operating profit in 2012's final three months.
South Korean electronic and automobile stocks traded lower. Shares of the heavyweight Samsung slipped 0.65 percent. Hyundai and Kia slipped 0.72 and 1.82 percent respectively.
Property firms fell in Hong Kong. China Resources Land was down 3.28 percent while China Overseas Land and Investment dropped 1.61 percent.