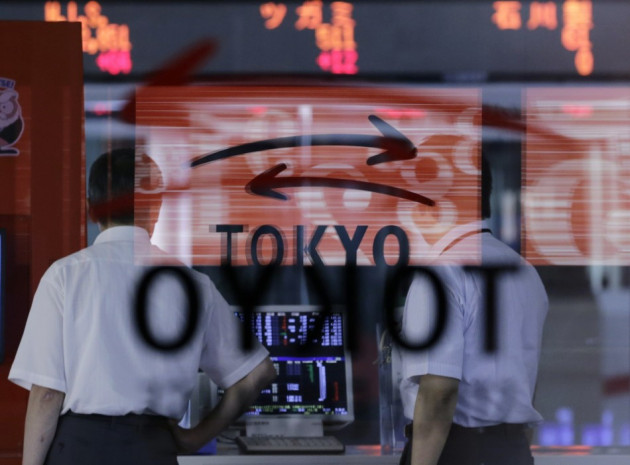 Most Asian markets have ended in the green, reversing early losses, on hopes of fresh monetary aiding measures from Japan and China, following the weaker than expected economic indicators.
Japan's Nikkei ended 0.09 percent or 8.03 points higher at 9010.71. South Korea's KOSPI closed 0.12 percent or 2.25 points lower to 1941.59.
Hong Kong's Hang Seng was up 0.68 percent or 145.79 points to 21697.55. China's Shanghai Composite Index gained 0.21 percent or 4.46 points to 2132.76.
India's Bombay Stock Exchange Sensex traded 0.54 percent or 100.54 points higher at 18782.76 at 10:30 GMT.
Markets were under pressure earlier in the day following weaker than expected quarterly earnings from some of the major US firms, pushing the US markets down in the previous week.
Sentiments were further dampened after Japan released its official export data which showed a 10.3 percent year on year drop in September shipments. Exports to China fell 14.1 percent after anti-Japanese sentiments caused by the territorial dispute resulted in a rejection of Japanese goods.
But trading picked up in Tokyo on expectations of fresh monetary easing measures from the Bank of Japan and after the yen dropped to a two-month low to the greenback. Japanese Prime Minister Yoshihiko Noda had earlier asked his cabinet to come up with fresh stimulus plans to revive the economy.
Meanwhile, Wall Street Journal's Market Watch reports that China opened two yuan-based exchange traded funds (ETF) tracking Hong Kong shares, opening doors for traders in mainland China to trade indirectly in the Hong Kong market. This is expected to offer traders an alternative to the local market, as China slows amidst the global economic downturn.
Reports also suggest that Chinese leaders have asked policy makers to draw up economic reforms, ahead of the once in a decade leadership change in the world's second largest economy.
"These may involve curbs on state-owned enterprises and more flexibility for interest rate and yuan movements," said Justin Harper, Market Strategist at IG Markets.
Major Movers
Exporters rebounded in Tokyo after a weak start. Pioneer gained 2.11 percent while Panasonic was up 0.39 percent. Canon gained 0.19 and Casio Computers rose 0.18 percent.
Shares of Sharp jumped 7.38 percent following reports that the company is in talks with international technology firms such as Hewlett Packard, Lenovo and Dell to provide its LCD display in the longer term.
Japanese automobile firms also advanced. Toyota Motor gained 0.32 percent while Honda Motors and Mitsubishi Motors rose 1.08 and 2.94 percent.
Property related stocks gained in Hong Kong. New World Development gained 1.56 percent while Henderson Land Development rose 2.06 percent.
In Shanghai, Aluminum Corp of China was down 0.20 percent while Jiangxi Copper slid 0.58 percent.
Automobile majors Hyundai and Kia fell 0.88 percent and 0.90 percent in Seoul. Electronics major LG Electronics fell 0.95 percent.
IT major Tata Consultancy Services was up the highest in India, gaining 2.73 percent, followed by engineering and industrial equipment maker Larsen and Turbo, higher by 2.18 percent.