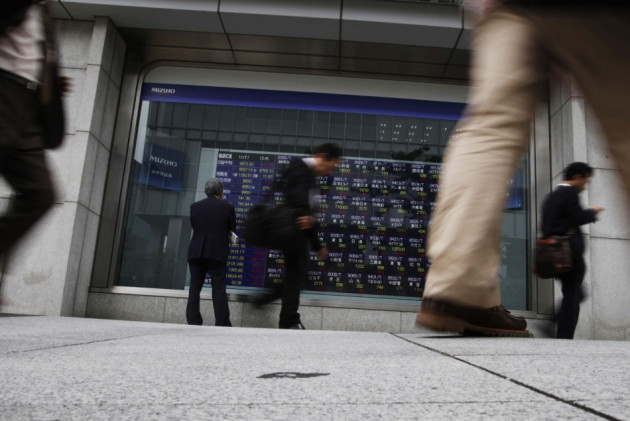 Asian markets picked up in the morning after a weak start as better China manufacturing figures offset the concerns sparked by Apple's weak quarterly figures.
Japan's Nikkei gained 0.34 percent or 35.19 points to 10522.18 while Australia's S&P/ASX 200 added 0.40 percent or 19.10 points to 4806.90. South Korea's KOSPI traded 0.07 percent or 1.44 points lower to 1978.97.
In China, the Shanghai Composite Index climbed 1.51 percent or 35.04 points to 2355.95. Hong Kong's Hang Seng was up 0.20 percent or 47.90 points to 23683.00.
Wall Street had closed earlier with gains after the US House of Representatives extended the country's debt ceiling till 19 May, giving the government a temporary breather on the borrowing limit issue and cheering markets. But after the markets closed technology heavyweight Apple reported quarterly figures that failed to meet expectations, pushing its stocks down in after-hours trading.The drop in stocks extended to Asia with Apple's suppliers across the region bearing the brunt.
"Weaker-than-expected sales of the iPhone and lower earnings caused ripples across Wall Street as so much is expected from its biggest company by market capitalisation," said Jason Hughes, Head of Premium Client Management at IG Markets in Singapore.
"In after-hours trading Apple's shares have fallen over 10 percent, from posting a close of $514 to trading below $460."
But sentiments turned positive after preliminary Chinese PMI figures from HSBC showed that manufacturing activities in the world's second largest economy improved for the fifth straight month in January. The index picked up to a two-year peak of 51.9, rising from a final reading of 51.5 in December.
South Korean market sentiments were down after official figures showed that the country's Gross Domestic Product (GDP) failed to meet expectations. The country's GDP remained little changed year-on-year, but made a moderate progress of 0.4 percent over the previous quarter.
Major Movers
Firms connected to Apple fell across the region. Shares of Hon Hai Precision Industry, better known as Foxconn, which makes iPhones, were down 1.06 percent in Taiwan. Sharp Corp was down 1.23 percent in Japan. In Seoul, LG Display fell 2.08 percent.
Apple's South Korean rival Samsung was also down 1.29 percent.
Automobile firms traded higher in Tokyo. Shares of Mazda Motor Corp was up 5.74 percent while those of Honda Motor Company were up 0.30 percent.
Improved Chinese figures boosted Australian mining stocks. BHP Billiton was up 0.18 percent while Mount Gibson Iron was up 1.82 percent.