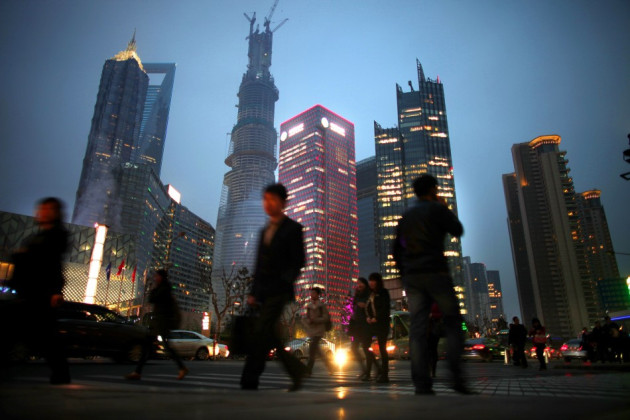 Most Asian markets have declined after a private survey showed that China's manufacturing output expanded at a slower pace in April, raising concerns of growth momentum in the world's second-largest economy.
The Shanghai Composite index declined 1.6 percent or 34.86 points to 2,207.3, and is heading for its biggest decline since 28 March. In Hong Kong, the benchmark Hang Seng index fell 0.9 percent or 200.88 points to 21,843.5.
Japan's Nikkei Stock Average shed 0.3 percent or 38.36 points to 13,530. South Korea's KOSPI declined 0.8 percent or 14.74 points to 1,911.6.
Bucking the general trend, Australia's S&P/ASX 200 advanced 0.9 percent or 44.35 points to 5,010.9.
China's manufacturing is expanding at a slower pace in April, according to a preliminary report by HSBC Holdings and Markit Economics. The Purchasing Managers' Index (PMI) showed a preliminary reading of 50.5, compared with a final reading of 51.6 in March. A reading above 50 indicates an expansion in manufacturing activity.
The preliminary reading also fell short of economists' estimates of 51.5, according to Bloomberg.
The HSBC report, China's first economic indicator for the second quarter, increased investors' concerns about the global growth prospects. It follows weaker-than-expected first-quarter gross domestic product (GDP) data, reported earlier in April, which prompted a sharp decline in global markets last week amid stock sell-offs.
The decline in the markets was despite signs that the US economy is recovering and the Bank of Japan will accelerate measures to stimulate its economy.
Earlier, the US has reported weaker-than-expected existing home sales data, pulling down the dollar at around 99.02 yen. The yen failed to reach the key 100 yen mark on Monday despite coming close to 99.90. The upcoming Bank of Japan meeting on Friday is likely to provide another opportunity to clear that symbolic level.
Worries in the commodity market continue despite a recovery in gold after last's week's record decline. More outflows from exchange-traded funds indicated investors' diminishing confidence in the precious metal.
Meanwhile, London copper declined 0.6 percent to $6,892 a tonne and brent crude futures declined 0.3 percent at $100.14. The US crude declined 0.3 percent to $88.90 per barrel.
Australian stocks climbed amid some upbeat earnings reports and positive cues from Wall Street.
Major Movers
Nikkei real estate majors Tokyo Tatemono and Tokyu Land declined 4.6 percent and 3.6 percent respectively. Meanwhile, banker Sumitomo Mitsui Trust shed 2.8 percent.
In China, building materials makers BBMG and Anhui Fangxing Science fell 5.6 percent and 5.4 percent, respectively. Industrial firm Xi'An Shaangu Power declined 3 percent.
Financial services stocks gained in Sydney trading, with Australia & New Zealand Banking Group rising 1.6 percent and Westpac Banking increasing 1.5 percent. Virgin Australia Holdings climbed 3.5 percent following regulatory approval for a plan to buy a majority stake in low-cost carrier Tiger Airways.