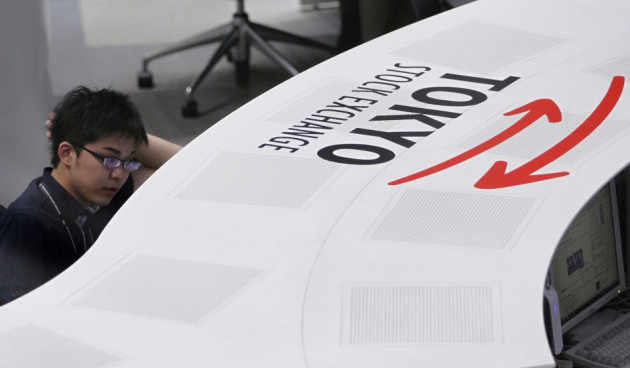 Most Asian shares have gained on hopes of monetary easing measures from China as major international financial institutions slashed growth forecasts for the region with warnings of a slowing of the global economy.
The International Monetary Fund (IMF) downgraded its 2012 growth forecasts for the global economy to 3.3 percent from 3.5 percent estimated earlier.
The organisation warned that China's economy could slow down to 7.8 percent this year. The estimate follows similar releases by the World Bank and the Asian Development Bank, predicting a 7.7 percent growth for China.
The IMF said that a further spike in the eurozone crisis and the impending "fiscal cliff" in the US could impact Asian economies.
Despite such gloom, investors remained positive as China's central bank reportedly announced further measures to aid the world's second largest economy.
The Wall Street Journal reported that the People's Bank of China injected 265 billion yuan into the economy in reverse repurchase agreements, a move widely expected to ease the liquidity crunch.
People's Bank of China Governor Zhou Xiaochuan said in an article in China Finance magazine that the country's monetary policy will remain flexible and pre-emptive as the international financial crisis puts pressure on the domestic economy, said Reuters.
China's Shanghai index was up 1.83 percent or 37.99 points to 2112.41 at 04:01 GMT while Hong Kong's Hang Seng rose 1.20 percent or 249.13 points to 21073.69. South Korea's KOSPI gained 0.51 percent or 10.20 points to 1992.09.
Japanese markets were down, opening after a long weekend. The Nikkei fell 0.36 percent or 31.99 point to 8831.31.
Eurozone financial ministers who met in Luxemburg to discuss the region's debt crisis said Spain does not immediately require a bailout package, adding that the country is taking measures to revive the economy.
German Chancellor Angela Merkel is visiting Greece to show her support for the crisis-stricken country and its proposed austerity measures. Athens is continuing its negotiations with international lenders to secure a bailout package.
Major Movers
Electronic firm Sharp and steel company Nisshin Steel were down the most in Japan, by 9.04 and 6.10 percent respectively.
Oil firm China Petroleum and Chemical gained the most in Hong Kong up by 4.35 percent. Financial stocks traded higher with Bank of Communications rising 2.86 percent, Industrial & Commercial Bank of China gaining 2.20 percent and Bank of China rising 2.07 percent.
Electronics manufacturer Aucma and air conditioning products maker Shuangliang Eco-Energy performed the best in China up by 10.07 and 10.03 percent respectively.
Aluminium products manufacturer Daeho AL and property firm e-Starco rose the most in South Korea by 14.98 and 14.95 percent.