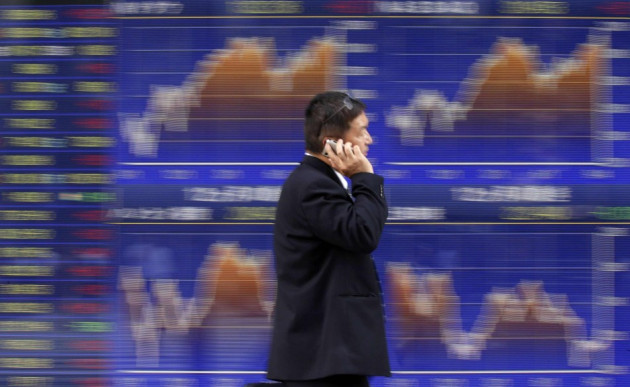 Asian markets have ended higher as China's quarterly growth rate met market expectations while its industrial production and retail sales gained in September.
Japan's Nikkei average ended 2 percent or 176.31 points higher at 8982.86. South Korea's KOSPI gained 0.20 percent or 3.97 points to 1959.12.
China's Shanghai Composite Index was up 1.24 percent or 26.07 points to 2131.69. Hong Kong's Hang Seng closed 0.48 percent or 102.07 points to 21518.71.
India's Bombay Stock Exchange Sensex gained 0.85 percent or 158.19 points to 18768.96 at 10:22 GMT.
China's third quarter gross domestic product (GDP) slowed to 7.4 percent year on year, in line with market expectations. Industrial output in the country beat market expectations in September, up 9.2 percent year on year from 8.9 in the previous month, while retail sales surged to 14.2 percent from 13.2 percent.
The positive indicators add to the improved trade and inflation figures released earlier this week, raising hopes of a fourth quarter financial rebound in the world's second largest economy.
"The latest data out of the world's second largest economy potentially suggest that the bottom is being found to the decline in GDP," said Jason Hughes, Head of Premium Client Management at IG Markets.
"This is good news on two levels. The Chinese economy finds a new, more manageable base to work from, that the recent declines could be abated suggests the potential turning point for the current global crisis. This is especially the case if the eurozone can start to finalise the last pieces of the jigsaw required to stop the rot in the single currency union."
Markets were upbeat earlier in the day after US housing starts rose 15 percent in September, a sign of recovery in the sector that contributed heavily to the economic downturn.
Concerns on the eurozone were also down ahead of the European Union summit in Brussels, as traders remained optimistic about the chances of Spain and Greece receiving international bailout.
Meanwhile, Japanese Prime Minister Yoshihiko Noda has asked his cabinet to plan a fresh stimulus package for the country's lagging economy. Investors will be keeping an eye on the details of the plan which have not yet been announced.
Major Movers
Metal related stocks were up in Hong Kong. Steel manufacturer Citic Pacific gained 3.70 percent while aluminium producer Aluminum Corp of China was up 2.28 percent. Jiangxi Copper rose 3.98 percent.
Export trading business Li & Fung gained the most, closing higher by 4.40 percent.
Shares of China's largest life insurer China Life Insurance were down 1.09 percent after the company forecast a 55 percent drop in profits.
Aluminum Corp of China and Jiangxi Copper gained in Shanghai as well, up 1.80 percent and 3.12 percent respectively. Baoshan Iron & Steel gained 1.11 percent.
Shares of exporters jumped in Tokyo after the yen weakened against the dollar and the euro. Honda Motors ended 3.99 percent higher, while Toyota was up 2.45. Nissan gained 3.41 percent.
Japanese metal firms gained as well. Kobe Steel ended 4.48 percent higher while Pacific Metals rose 4.85 percent.
Shipping firms gained in Seoul. Korea Line rose 14.93 percent while Hyundai Merchant Marine gained 3.11 percent. Shares of Daewoo Ship Building and Marine Engineering Company were up 5.22 percent.
Automobile majors and financial stocks gained in India. Tata Motors and Hero Motor rose 2.99 and 1.68 percent while state-owned State Bank of India and ICICI Bank rose 2.66 and 1.30 percent.