Asian Markets End Lower, Corporate Earnings and Europe Worry
Concerns on eurozone return after Moody's downgrade five Spanish regions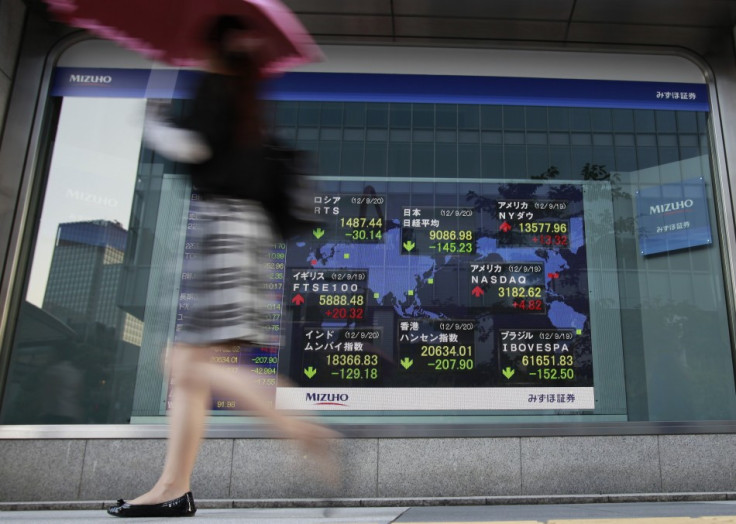 Most Asian markets have ended the day in the red as fresh concerns on the eurozone emerged after Moody's downgraded five Spanish regions and investors awaited Asian corporate earnings reports.
Japan's Nikkei average closed moderately higher, by 0.04 percent or 3.54 points to 9014.25. South Korea's KOSPI was down 0.76 percent or 14.78 points to 1926.81.
China's Shanghai Composite index dropped 0.86 percent or 18.31 points to 2114.45. Hong Kong markets remained closed for a holiday.
India's Bombay Stock Exchange Sensex fell 0.38 percent or 71.01 points to 18722.43 at 09:40 GMT.
Concerns on the eurozone returned to haunt markets following reports that the rating agency Moody's Investor Service downgraded five Spanish regions, including Catalonia.
The agency said the decision was "driven by the deterioration in their liquidity positions, as evidenced by their very limited cash reserves as of September 2012 and their significant reliance on short-term credit lines to fund operating needs".
Concerns on Asian corporate earnings also weighed strong on investor sentiments. Some of the major firms in the region have already reported weak earnings. Taiwan-based computer maker Acer posted a weaker-than-expected profit of $2.32mn while South Korean steel giant Posco announced a 25 percent profit drop due to the slowdown in China.
Meanwhile, HSBC and Markit are expected to release China's flash purchasing managers index (PMI) for October later in the week. The PMI had remained in contractionary territory in the previous month.
Investors are also keeping a close watch on the US gross domestic product data expected later in the week after mixed quarterly reports from major US companies.
Major Movers
Utility firms extended losses in Tokyo. Shares of Kansai Electric Power dropped 12.88 percent after the company said it will not pay dividend at the end of the fiscal year.
Chubu Electric Power slid 9.91 percent while Tokyo Electric was down 1.49 percent.
Shares of major automobile firms fell as the yen regained its strength against the dollar and the euro. Toyota was down 0.16 percent while Nissan and Honda dropped 0.28 and 0.04 percent.
Some of the major electronic firms retained their early gains. Panasonic shares ended 0.58 percent higher, while Casio was up 2.80 percent.
Shares of steel manufacturers fell in Seoul. Posco, which posted weak quarterly results, dropped 2.11 percent. Hyundai Steel and Dongbu Steel fell 1.71 percent and 0.12 percent respectively.
Metal stocks were down in China as well. Aluminum Corporation slid 0.98 percent. Jiangxi Copper was down 0.81 percent.
Chinese pharmaceutical firms traded lower. Wuhan Jianmin Pharmaceutical fell 5.71 percent while Zhangzhou Pientzehuang Pharmaceutical and Tianjin Zhong Xin Pharmaceutical were down 5.09 and 4.81 percent.
In India, shares of steel manufacturer Jindal Steel and Power were down 2.22 percent while aluminium producer Hindalco fell 1.39 percent.
© Copyright IBTimes 2023. All rights reserved.