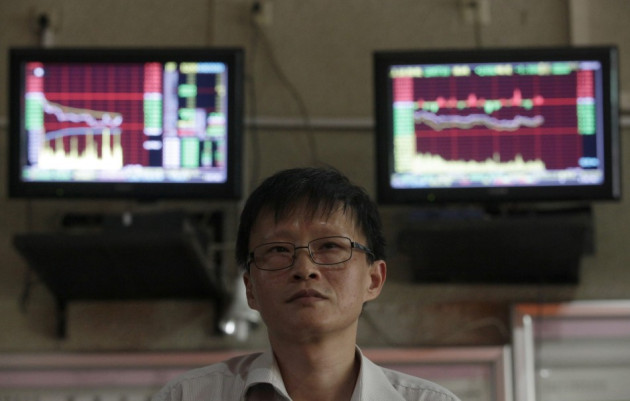 Most Asian shares have traded lower, reversing early gains, as corporate earnings and concerns on property regulations in Hong Kong offset the positive sentiments from the US economy.
Japan's Nikkei average ended 0.04 percent or 3.72 points lower to 8929.34 while South Korea's KOSPI closed flat at 1891.52.
China's Shanghai Composite index slid 0.35 percent or 7.27 points to 2058.94. Hong Kong's Hang Seng index dropped 0.16 percent or 34.52 to 21511.05.
India's Bombay Stock Exchange, Sensex, traded 0.07 percent or 13.84 points higher to 18639.18 at 10:02 GMT.
Investors had started the day on a positive note following better than expected gross domestic product data (GDP) from the US. Official data from the country's Commerce Department showed that the world's largest economy expanded 2 percent in the third quarter from 1.3 percent in the previous.
But traders in Hong Kong remained downbeat following reports that the city authorities plan to impose a tax of 15 percent on property purchases made by overseas buyers and corporates. Property related stocks slumped on fears of a fall in demand, dragging the Hang Seng index down.
Concerns on Asian corporate earnings too weighed strong on investor sentiments. Some of the major firms in the region have reported lacklustre quarterly results, raising concerns on the economy as a whole.
Expectations are high on Bank of Japan to announce further monetary easing plans as it meets on 30 October. Earlier, media reports had suggested that the central bank's policy makers might consider boosting its asset purchase programme.
Major Movers
Mobile carrier NTT Docomo was down 6 percent in Tokyo after the company cut its profit outlook for the full year.
Shares of automobile major Honda Motor Company ended 4.65 percent lower following reports that the company downgraded its full year earnings estimates due to weak sales and a strong Yen. Other automobile majors too made losses. Shares of Toyota Motor Corp were down 1.62 percent while those of Nissan dropped 2.19 percent.
Automobile stocks were down in Seoul as well. Hyundai Motor Company was down 3.09 percent while Kia Motors Corp slid 4.01 percent. Shipping firm Korea Line Corp gained was up the most, gaining 15 percent. Samsung Electronics reversed previous week's losses and ended 0.93 percent higher.
Property sector ended the day in the red in Hong Kong. Henderson Land Development Company was down 6.41 percent while Sino Land Company dropped 6.40 percent. New World Development Company and Sun Hung Kai Properties were down 6.36 and 5.10 percent respectively.
Glass manufacturer Henan Ancai Hi-Tech Company and apparel firm Shanghai Kaikai Industry Company were the major losers in Shanghai, dropping 9.62 percent and 9.24 percent respectively.
Technology firm Wipro was the major gainer in the India, up by 2.65 percent, followed by automobile firm Hero Motorcorp, which gained 1.97 percent.