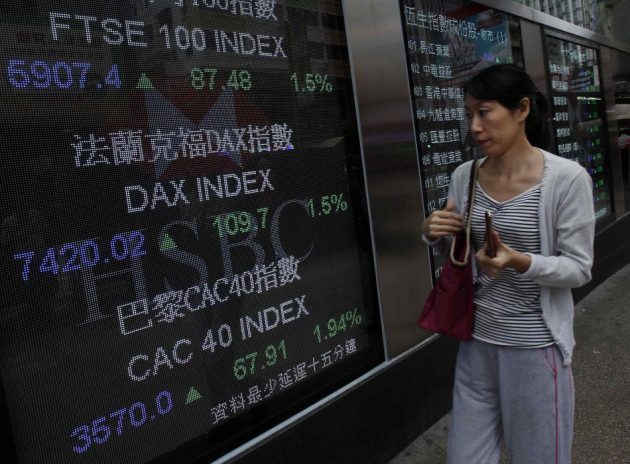 Asian markets have ended trade down, closing the week in the red as concerns over US and Asian corporate earnings outweighed Japanese monetary easing measures.
The Nikkei was down 1.35 percent or 122.14 points to 8933.06 while South Korea's KOSPI fell 1.72 percent or 33.07 points to 1891.43.
China's Shanghai Composite index slid 1.68 percent or 35.37 points to 2066.21. Hong Kong's Hang Seng was down 1.21 percent or 264.66 points to 21545.57.
India's Bombay Stock Exchange, Sensex traded 0.81 percent or 151.98 points lower to 18606.65 at 10:13 GMT.
Markets had started the day on a weak note following disappointing quarterly earnings from US tech major, Apple. Earlier tech firms Microsoft and Google had posted weaker than expected results, raising concerns on the sector.
Japanese government announced a 422.6bn Yen (£3.2bn) stimulus package to revive the country's ailing economy. However, markets refused to cheer as traders remained unconvinced on the effectiveness of the plan.
Meanwhile, official data from South Korea showed that the country's economy grew at its slowest pace in almost three years, amid falling exports and weak investment as the global economy slows down.
Major Movers
Industrial and metal stocks fell in Tokyo. Fuji Electric Co Ltd was down 7.47 percent. Nippon Light Metal Holdings Co Ltd and Nisshin Steel Holdings Co Ltd slid 5.19 and 5.16 percent. Kobe Steel Ltd fell 4.23 percent.
Shares of camera maker Canon Inc ended 3.21 percent down after the company slashed its profit estimates.
Electronics company Sharp Corp gained 3.75 percent following reports that the company is considering investment from US technology firms.
Samsung Electronics Co Ltd extended losses ending 2.65 percent lower in Seoul even after posting record quarterly profits. Automobile major Kia was down 5.61 percent after the company posted result that failed to meet expectations.
China Unicom Hong Kong Ltd gave up 7.56 percent in Hong Kong after the company's profits failed to meet estimates. Metal related stocks ended lower. Aluminum Corp of China Ltd was down 5.06 percent while Citic Pacific Ltd closed 4.11 percent.
Metals ended lower in China as well. Aluminum Corp of China was down 4.11 percent while Jiangxi Copper ended 4.22 percent lower.
Pharmaceutical firms traded down in India. Cipla Ltd was down 1.92 percent. Dr. Reddy's Laboratories Ltd and Sun Pharmaceutical Industries Ltd fell 1.74 and 1.56 percent.