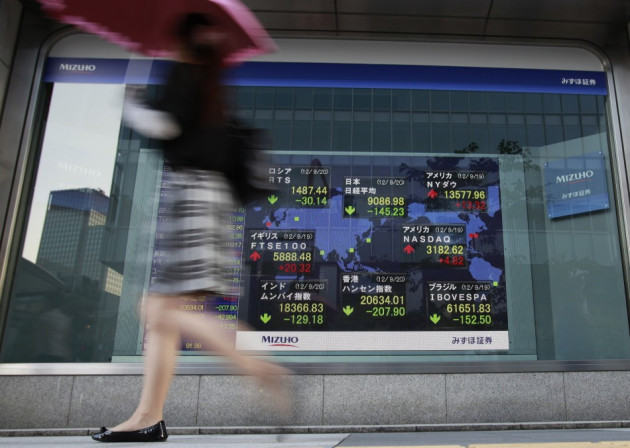 Most Asian markets were trading lower as concerns over the eurozone debt crisis and US corporate earnings offset better export and inflation data from China.
China's Shanghai Composite index was down 0.40 percent or 8.45 points to 2096.48 at 04:05 GMT. Hong Kong's Hang Seng slid 0.14 percent or 29.67 points to 21106.76.
South Korea's KOSPI traded 0.32 percent or 6.09 points lower to 1927.17. Japan's Nikkei was up moderately, by 0.40 percent or 8.45 points to 2096.48.
Official data released over the weekend showed that China's exports jumped 9.9 percent in September from 2.7 percent in August. The trade surplus rose $27.67 bn (£17.2 bn) from $26.7 billion (£16.6 bn) in the previous month.
However, exports to Europe, China's major market, fell 10.7 percent.
The country's inflation rate was also better, easing to 1.9 percent in September from 2 percent in the previous month.
However, the improved Chinese indicators failed to cheer Asian investors as the mounting eurozone crisis remained in focus ahead of the EU summit at Brussels later this week.
"The main themes for this week are likely to be focused around the EU summit, which starts on Thursday in Brussels, with many hoping for further developments from the region on the situations for both Greece and Spain," said Jason Hughes, Head of Premium Client Management at IG Markets.
"However, it is unlikely we will see much in the way of progress at this meeting."
Quarterly corporate earnings from companies in the US too failed to boost investor sentiments even after reports of better performance by some of the major firms such as JP Morgan Chase and Wells Fargo.
Major Movers
Softbank extended the previous week's losses after it announced plans to acquire US telecom firm Sprint Nextel. Shares of the firm were down 5.55 percent in Tokyo.
Technology major Sony dropped 0.55 percent following reports that Moody's slashed the company's credit rating with a negative outlook mainly due to its struggling television business.
Industrial plants maker Chiyoda was up the most, gaining 6.31 percent, followed by tyre maker Bridgestone, up 3.82 percent.
Footwear retailer Belle International and utility major China Resources Power Holdings were the major losers in Hong Kong, falling 3.69 and 1.76 percent. Belle had reported a decline in its year-on-year same store sales in the third quarter.
Chemicals manufacturer Dahua Group Dalian Chemical Industry was the major loser in Shanghai, down 9.64 percent, followed by solar cells maker Hareon Solar Technology, which fell 7.32 percent.
Financial firms were trading the lowest in Seoul. Jinheung Savings Bank was down 23.08 percent while Seoul Mutual Savings Bank dropped 18.75 percent.