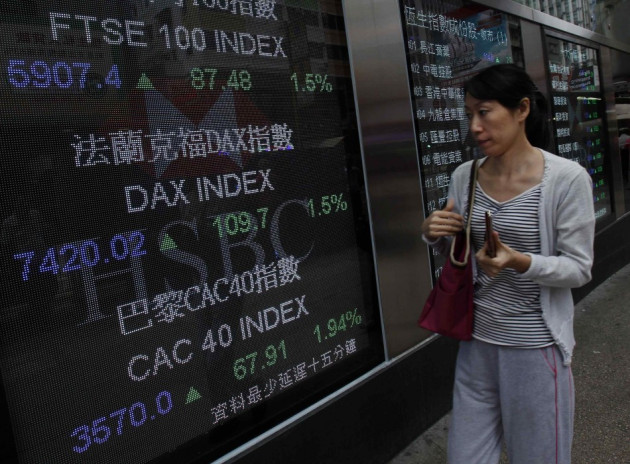 Asian markets have gained as traders were encouraged by US quarterly earnings and retail sales amid positive signals from Spain and Greece on the eurozone crisis.
Japan's Nikkei average gained 0.94 percent or 80.89 points to 8658.82 at 03:57 GMT while South Korea's KOSPI was up 0.32 percent or 6.15 points to 1931.74.
China's Shanghai Composite index traded 0.02 percent or 0.33 points higher to 2099.03. Hong Kong's Hang Seng gained 0.05 percent or 10.66 points to 21158.91.
Investors cheered after major US firms reported better-than-expected third quarter profits while official data showed that the country's retail sales jumped one percent in September.
"The gentle breeze of improving US consumer confidence is likely to make its way into Asia today after a positive start to the week for Wall Street," said Justin Harper, market strategist at IG Markets.
Financial major, Citigroup's quarterly profits beat estimates, even though net income dipped 88 percent year on year. JP Morgan and Wells Fargo too had earlier announced stronger results for the third quarter.
"This data builds on consumer confidence hitting a five-year high last week and more signs of improvement in the all-important house-building sector," Harper said.
Concerns over the eurozone eased moderately following reports that Spain may ask for international aid by November and assurances from Greek Prime Minister Antonis Samaras that the country will secure a bailout.
However, investors in China remained cautious ahead of the country's quarterly gross domestic product (GDP) figures expected later this week. Reuters reported that analysts had cut September earnings estimates by the most in about two and a half years, dampening the outlook for investors who hope that the world's second largest economy will recover soon.
Major Movers
Exporters gained in Tokyo after the US dollar strengthened against the yen following positive earnings reports.
Watch maker Citizen gained 4.14 percent while electronic majors Toshiba and Sony were up 1.91 percent and 1.20 percent. Shares of camera maker Nikon rose 0.36 percent.
Telecom major Softbank climbed 10.76 percent reversing earlier losses following the confirmation of its US deal to acquire Sprint Nextel.
Samsung Electronics, which has a strong presence in the US, gained 1.92 percent in Seoul. Shares of automobile majors with international exposure, Hyundai and Kia, were also up by 0.89 and 1.97 percent.
Property related firms extended their gains in Hong Kong. China Resources was up 4.03 percent, followed by China Overseas Land, which gained 2.06 percent. Swire Pacific rose 1.97 percent as well.
Apparel manufacturing related firms were up the most in Shanghai. Orient International was up 10.07 percent, followed by Shanghai Kaikai which gained 10.03 percent.