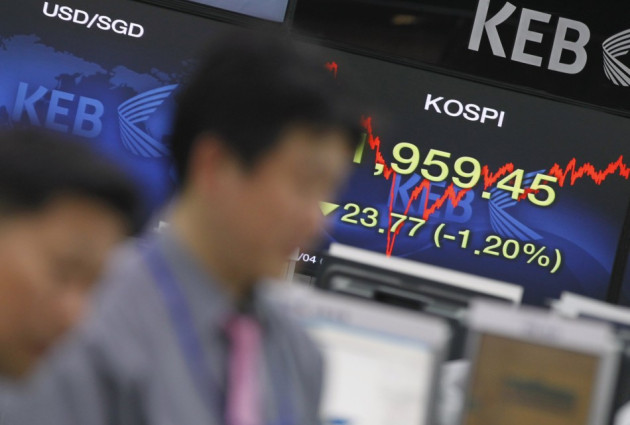 Asian markets have gained on revived investors' hopes for global economic recovery after an interest rate cut by the European Central Bank and an unexpected decline in US jobless claims.
Australia's S&P/ASX 200 rose 0.1% or 4.43 points to 5,134.4 and South Korea's KOSPI advanced 0.1% or 1.43 points to 1,958.2. The Japanese markets were closed for a holiday.
In Hong Kong, the benchmark Hang Seng index gained 0.8% or 184.76 points to 22,853.1. China's Shanghai Composite Index rose 2.1% or 45.02 points to 2,218.9.
Earlier, the ECB cut its benchmark interest rate by 25 basis points to 0.5% as widely expected by analysts. Further, the ECB president Mario Draghi said that the euro area's monetary policy is "extraordinarily accommodative" and the central bank will act further if needed.
After the ECB decision, the euro rose against the dollar, and is currently trading at $1.3074, up 0.07%.
The decision, which came a day after the Federal Reserve recommitted to its stimulus program and a month after the Bank of Japan announced a $1.4tn stimulus to revive the economy, is expected to aid the global economic rebound.
Further, the number of Americans filing new jobless benefits claims declined sharply last week to its lowest level since the early days of global economic recession.
Markets are now keenly waiting for the US non-farm payrolls report due later on Friday. Analysts polled by Bloomberg expect the US payrolls to increase by 140,000 workers after an 88,000 gain in March.
In the commodities market, US crude traded at $93.88 per barrel, following a near 3% rally on Thursday. Copper prices slightly rebounded to $6,898 per tonne, while Aluminum and zinc climbed at least 1.4%.
Major Movers
In Australia, financial stocks led the rally in the market. Shares of Macquarie Group soared 10.7%, after the securities firm reported a 17% increase in full-year profit and increased annual dividend payment. Westpac Banking rose 0.8% following a 10% increase in cash profit for the first half. Commonwealth Bank of Australia climbed 1.2%, and National Australia Bank advanced 1.1%.
Korean exporters gained on strong overseas cues, with Kia Motors rising 0.5%, and LG Display gaining 0.7%.
In Hong Kong, property developer New World Development surged 5.34%, footwear major Belle International Holdings climbed 3.19% and steel maker CITIC Pacific rose 2.78%.
Shanghai's Tibet Urban Development, chemicals company Inner Mongolia Lantai and Yunnan Coal Energy rose more than 10%.