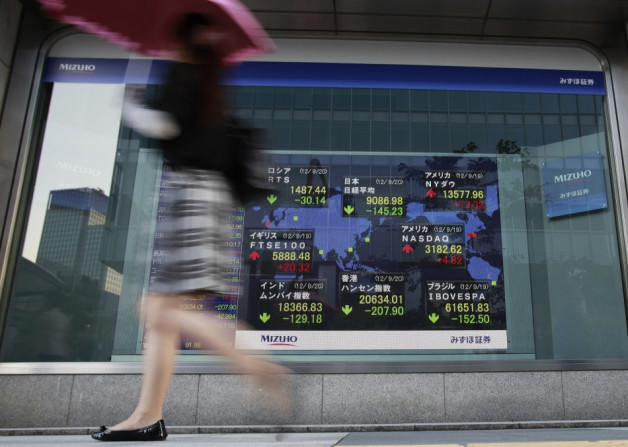 Asian markets were mixed in the morning session as investors remained cautious due to global economic concerns ahead of the US presidential election.
Japan's Nikkei traded 0.29 percent or 26.24 points lower to 9024.98 at 02:50 GMT while South Korea's KOSPI was down 0.38 percent or 7.25 points to 1911.47.
China's Shanghai Composite index gained 0.60 percent or 12.62 points to 2117.05. Hong Kong's Hang Seng rose 1.33 percent or 289.46 points to 22111.33.
US markets had ended the previous week in the red as traders remained wary of the election outcome, even though the country's official unemployment data showed that non-farm payrolls rose by 171,000 in October, more than the estimated 120,000 increase.
"Asian markets are likely to follow the cautious trend this week with so much uncertainty on the cards out of the world's biggest economy," said Justin Harper, market strategist at IG Markets.
"For many, Mitt Romney would be good for equities, although he may want to end QE3 and replace Bernanke at the Fed."
Investors in China had something to cheer after official data showed that the country's service sector purchasing managers' index (PMI) improved to 55.5 in October from 53.7 the previous month.
Chinese markets are also awaiting the once-in-a-decade leadership change in the country set to take place later in the week. Although it is widely accepted that Xi Jinping will assume leadership of the country, investors are waiting to see the new regime's policies as the global economy continues to lag.
Meanwhile, a two-day EU-Asia summit is due to kick off in Laos, where European leaders are expected to reassure Asian countries that the EU is still a strong trading partner.
Major Movers
Technology shares dropped in Tokyo. Shares of Sharp were down 4.85 percent following reports that the ratings agency Fitch had downgraded the company to junk status.
Panasonic fell 2.92 percent while Nikon and Sony were down 2.49 and 2.36 percent.
However, a weak yen encouraged other Japanese exporters. Shares of Toyota were up 2.39 percent, ahead of its quarterly earnings report expected later in the day. Nissan gained 0.15 percent while Honda was up 1.22 percent.
Shares of automobile majors Hyundai and Kia plunged 7.21 and 6.94 percent in Seoul following reports that a US agency had found that carmakers exaggerated their mileage figures.
Shanxi Antai and Changlin were the notable gainers in Shanghai, up 10.13 percent and 10.08 percent.
Property related stocks traded relatively higher in Hong Kong. Shares of New World Development Company were up 0.97 percent while those of Wharf Holdings gained 1.02 percent.