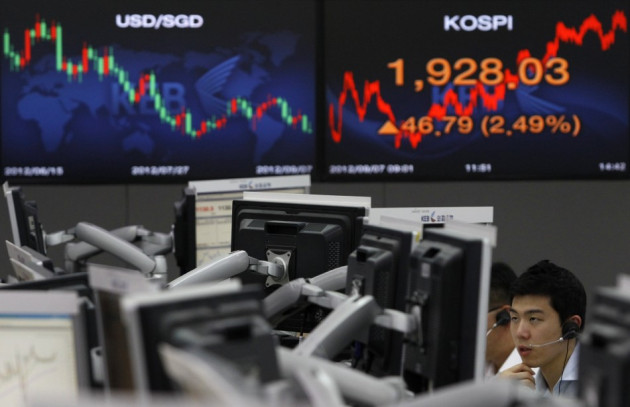 Asian markets ended in the red on global economic concerns as issues in Spain and the rest of eurozone overshadowed positive indicators from the US.
China's Shanghai Composite Index, which opened after a week of holidays, was down 0.56 percent or 11.75 points to 2074.42. Hong Kong's Hang Seng slipped 0.74 percent or 155.97 points to 20856.41.
South Korea's KOSPI slid 0.67 percent or 13.28 points to 1981.89. India's BSE traded lower by 0.70 percent or 149.94 points to 18788.52 at 09:09 GMT.
Markets in Japan were closed for a holiday.
"Across the region the main event was China's return from a week-long holiday," said Justin Harper, market strategist at IG Markets.
"Traders were concerned the stock market might tank given it was the first opportunity for a big sell-off after China's weak manufacturing data."
China's official manufacturing purchasing managers' index for August, released earlier this month, had remained in the contractionary territory.
Investors remained wary ahead of the eurozone financial ministers' meet in Luxemburg to discuss the region's economic situation.
Spain is expected to be in focus as the country delays bailout packages from international lenders. Mass protests against proposed austerity measures continue in the country, putting more pressure on the government to reassure investors that its financial situation is under control.
Markets players are also awaiting a decision on Greece's bailout package as Athens tries to avoid eurozone exit.
German Chancellor Angela Merkel is scheduled to visit the country early this week. Merkel's visit raises hopes that Germany may support Greece to remain in the eurozone.
US unemployment data for September released in the previous week had shown that the country's jobless rates were at the lowest level since January 2009. Although the data indicated signs of a recovery, investors worried that it might cut chances of further financial stimuli.
Meanwhile, the World Bank cut its growth estimates for East Asia and Pacific countries citing the global economic downturn and its impact on export dependent Asian countries such as China.
Metals Drop
Metal associated firms fell across Asian markets. In Shanghai, Zhongjin Gold Corp fell 2.91 percent while Aluminum Corp of China and Jiangxi Copper slipped 1.00 percent and 2.26 percent respectively.
In South Korea, steel manufacturer Posco lost 1.92 percent while Hyundai Steel was down 2.05 percent.
In Hong Kong Zijin Mining fell 4.63 percent while Jiangxi and Aluminum Corp of China were down 1.40 and 0.61 percent.
Aluminium manufacturer Hindalco traded 4.08 percent down in India while Hind Zinc slid 2.57 percent.
Shares of ZTE Corp were down 5.97 percent in Hong Kong after a US congressional panel said that the company posed threats to national security and that its activities should be restricted.