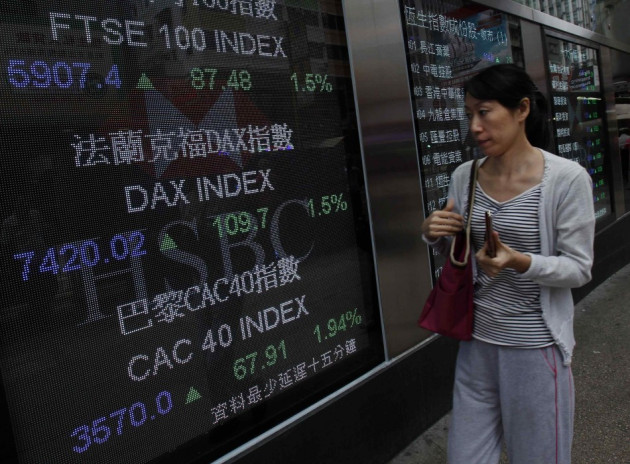 Most Asian markets recovered from the previous session's Italy-inspired slump in the morning session as Federal Reserve Chairman Ben Bernanke's stimulus reassurances eased investor concerns.
Australia's S&P/ASX traded 0.64 percent or 32.00 points higher at 5035.60 while South Korea's KOSPI rose 0.20 percent or 4.00 points to 2004.01. Japan's Nikkei average index slipped 0.80 percent or 91.55 points to 11307.26.
In China, the Shanghai Composite Index picked up 0.56 percent or 12.93 points to 2306.27. Hong Kong's Hang Seng added 0.49 percent or 110.21 points to 22629.90.
Bernanke, at his congressional testimony made a committed effort to defend the Fed's stimulus plans, downplaying the potential risks as they did not appear imminent at the moment. His comments, along with US housing data that beat analysts' expectations had earlier pushed Wall Street higher to close with gains.
"Bernanke cleverly played down fears that monetary easing could end prematurely by highlighting the benefits of the US$85 billion a month bond-buying scheme," said Jason Hughes, head of premium client management at IG Markets in Singapore.
"The Fed's big cheese said financial stresses are less today than two years ago although the impending sequestration could be a problem."
But despite the improved sentiments, concerns on the world's largest economy will persist this week as the country's lawmakers seek a final decision on the automatic spending cuts that is set to kick in soon. Bernanke himself has warned that unless the spending cuts are avoided, they will hamper the country's recovery efforts.
Eurozone fears too look set to continue as the Italian elections this week have failed to provide a conclusive outcome. The poll-triggered political deadlock had hammered European markets in the previous session.
Japanese stocks remained weak as the yen came off its record low levels. The dollar traded at about 92 yen during the day after having fallen as much as 91.88 yen during the North American session, weakening from the 94 yen mark touched early this week.
Major Movers
Japanese exporters once again came under pressure as the local currency firmed. Canon fell 2.41 percent while Ricoh was down 1.75 percent. Automobile majors Mazda and Honda were down 2.17 and 1.90 percent respectively.
South Korean exporters traded higher. Samsung Electronics was up 0.72 percent while Hyundai added 1.17 percent.
Property stocks gained in Hong Kong. Shares of China Overseas and Land Investment gained 2.90 percent while Wharf Holdings added 2.49 percent. Sino Land Company was up 2.26 percent.