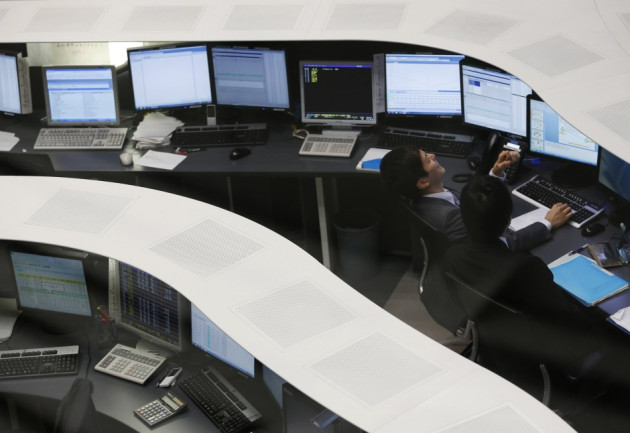 Asian stocks remained strong in the morning session, extending the previous day's gains on hopes of US lawmakers reaching a 'fiscal cliff' solution before the deadline.
Japan's Nikkei average rallied 1.28 percent or 127.31 points higher to 10050.32. Hong Kong's Hang Seng index rose 0.70 percent or 156.76 points to 22651.49 while China's Shanghai Composite Index slipped 0.06 percent or 1.26 points to 2161.20. South Korean markets remained shut for elections.
The Wall Street had closed higher overnight, providing strong cues to the Asian markets as to the optimism surrounding US budget talks. The deadlock over the negotiations that extended for weeks had kept investors on their toes as economists warned that a failure to reach a solution may push the world's largest economy into recession. Analysts suggest that although a final deal is yet to be made, signs of progress in the matter has eased the market concerns.
"Despite the lack of any further significant developments, the baby steps that have been made so far towards the compromise agreement needed, continues to lend support to the belief in the markets that a deal will be reached in time," said Jason Hughes, head of premium client management at IG Markets in Singapore.
Sentiments were further boosted after the ratings agency Standard & Poor's upgraded Greece's sovereign rating to B- with a stable outlook, convinced by Europe's efforts to stand by Athens in times of trouble.
"The upgrade reflects our view of the strong determination of European Economic and Monetary Union (eurozone) member states to preserve Greek membership in the eurozone," S&P said.
Japanese traders continued to remain positive on monetary easing hopes from the Bank of Japan (BOJ) after the Liberal Democratic Party's landslide electoral victory. The central bank will be under pressure to introduce more stimulus measures as it meets for a policy review this week. The Yen held on to its weak run against the Dollar, trading at around $84.2900.
Major Movers
Japanese financial firms traded higher as US 'fiscal cliff' fears eased. Shares of Dai-ichi Life Insurance gained 5.88 percent while those of Mitsubishi UFJ Financial Group were up 5.61 percent. Aozora Bank rose 4.76 percent.
Exporters remained strong on the Yen's weakness. Ricoh was up 5.39 percent while Canon gained 4.62 percent.
Property stocks gained in Hong Kong. Wharf Holdings rose 3.55 percent while China Resources Land added 1.20 percent.
Resource sector traded lower in China. Shares of China Oilfield Services dropped 5.67 percent. Zhuzhou Smelter Group and Jiangsu Zhongda New Material Group fell 5.67 and 4.72 percent.