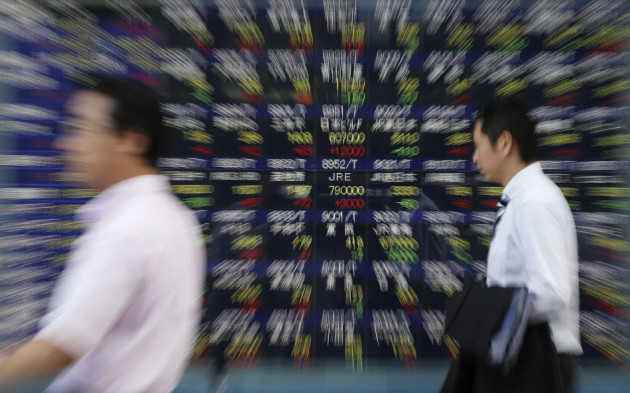 Asian markets have gained as investors were somewhat encouraged after US weekly jobless claims fell while Japan and China agreed to hold talks on the territorial dispute.
Hong Kong's Hang Seng was up the most, gaining 0.82 percent or 172.67 points to 21171.72 at 03:53 GMT while China's Shanghai Composite Index rose 0.39 percent or 8.15 points to 2111.02.
South Korea's KOSPI index gained 0.05 percent or 1.04 points to 1934.13. The Nikkei traded flat at 8546.96.
The US labour department said that the initial jobless claims saw a 30,000 drop in the previous week, to the lowest point in four and a half years, suggesting progress in the labour market. But investors remain cautious on fears that the better figures may not be sustained in the coming weeks.
"This was the lowest figure in over four years but perhaps doesn't signal the end to the employment issues in the US," said Jason Hughes, Head of Premium Client Management at IG Markets.
"Many weeks of improved data will be required to see a material change in the unemployment rate, which is what the Fed and the government need and want to see."
However, investors were more reassured following reports that Chinese and Japanese officials have agreed to bilateral talks to reduce tensions over the Senkaku islands dispute.
The move comes after Japanese Prime Minister Yoshihiko Noda warned that both the Chinese and the Japanese economies will bear the brunt if the differences are not settled through talks.
Major Japanese exporters had reported a significant drop in Chinese sales following anti- Japanese sentiments in the world's second largest economy.
Meanwhile, Deputy Managing Director of the International Monetary Fund, Naoyuki Shinohara, said the Bank of Japan is capable of providing further monetary boost and that the conflict with China will not affect the country immediately.
Following signs of improvement in the Sino-Japanese relationship, shares of automobile companies gained in Tokyo. Toyota Motor jumped 1.89 percent while Honda Motor was up 1.94 percent. Nissan Motor also rose 2.13 percent.
The electronic sector also gained as Canon rose 2.37 percent and Toshiba 1.57 percent. Sony was up 1.46 percent.
China-based banks continued their gains in Hong Kong. The Agricultural Bank of China was up 0.94 percent while Bank of China gained 0.33 percent and China Construction Bank Corp climbed 0.77 percent.
Plastic pipes manufacturer Anhui Guotong Hi-Tech Pipes Industry Company and fertiliser manufacturer Hebei Cangzhou Dahua were the major gainers in Shanghai, up by 10.05 and 10.00 percent respectively.
Financial firm Jinheung Savings Bank was up the most in Seoul, gaining 30.56 percent, followed by petroleum distributor Daesung Group Holdings, higher by 14.99 percent.