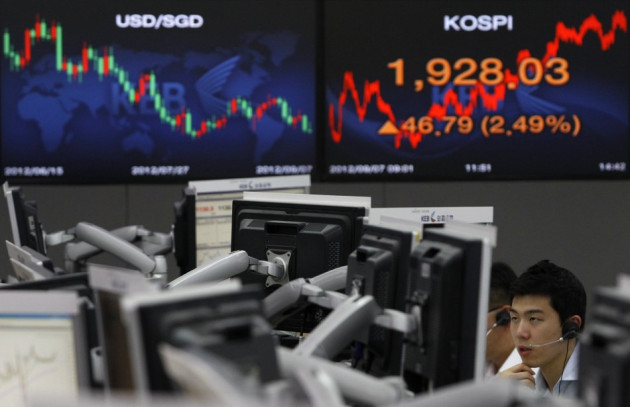 Asian markets have ended higher on expectations of better economic data from the US although Japanese stocks reacted to the Bank of Japan's interest rate decision.
Investors remained encouraged by European Central Bank President Mario Draghi's reassurance on the central bank's commitment to help out crisis-stricken European countries such as Spain.
Concerns lingered on Spain's delay in seeking an international bailout, but traders were encouraged on reports that the country's industrial production fell less than expected.
The Nikkei gained 0.44 percent or 38.71 points at 8863.30 while South Korea's KOSPI rose 0.12 percent or 2.49 points to 1995.17. Hong Kong's Hang Seng rose 0.50 percent or 104.86 points to 21012.81.
India's Bombay Stock Exchange was down 0.74 percent or 140.12 points to 18918.03 at 09:53 percent.
Japan's central bank said it will keep the interest rates unchanged at 0.75 percent to observe the impact of the recent monetary easing measures.
Although the decision was in line with market expectations, Japanese shares fell and the dollar gained.
"The initial disappointed reaction meant that we saw the yen strengthen marginally," said Jason Hughes, Head of Premium Client Management, at IG Markets.
"Japanese equities sold off from early morning highs, when traders returned from their lunch break, and into negative territory."
Exporters and automobiles dropped the most. Camera maker Nikon fell 4.81 percent extending the previous day's losses after the Nikkei predicted a fall in the company's interim operating profits.
Electronics major Sharp was also down, by 2.75 percent.
Toyota Motor dropped 1.62 per cent as the company said it plans to restart operations in China but on a lower scale due to falling sales and anti-Japanese protests.
Shares of Nissan Motor fell 1.47 percent after reports that the manufacturer expects a decline in September sales due to the protests. Honda Motors fell 0.45 percent.
Investors remained upbeat on hopes of positive signs from US economic indicators and the index regained to close in the green.
Metal manufacturers were the major gainers in Hong Kong. Steel maker Citic Pacific was up 5.23 percent while aluminium producer Aluminum Corporation of China rose 3.14 percent.
Construction firm e-Star and semi-conductor testing devices maker DI Corp were the better performers in South Korea, gaining 14.92 per cent and 14.91 percent respectively. Shares of Samsung Electronics saw moderate gains, closing 0.38 percent up, after the company reported record profits for the quarter ending September.
Finance firms fell in India. Shares of HDFC were down 4.99 percent following reports that CMP Asia, part of the US firm Carlyle Group, sold its shares. ICICI Bank was down 1.41 percent while the state-owned lender State Bank of India dropped 0.29 percent.