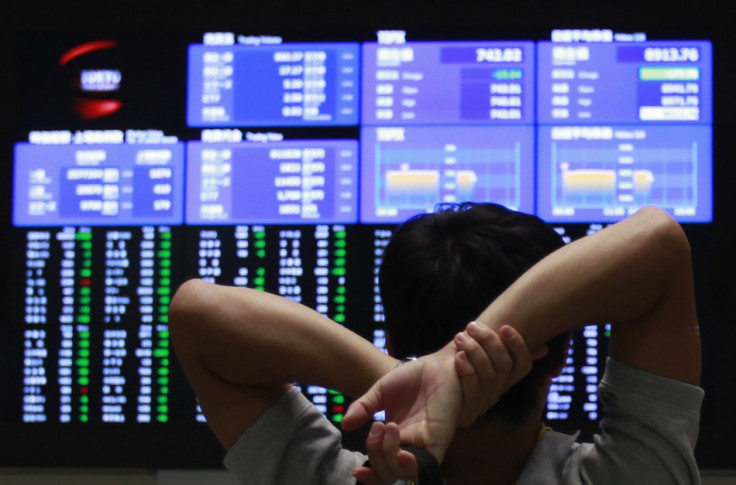 Most Asian markets are trading lower, reversing earlier gains, as US technology majors posted disappointing quarterly results and employment data failed to meet expectations.
Japan's Nikkei average slid 0.14 percent or 12.30 points to 8970.56 at 04:03 GMT, while South Korea's KOSPI dropped 0.75 percent or 14.64 points to 1944.48.
China's Shanghai Composite index eased 0.04 percent or 0.76 points to 2130.92. Hong Kong's Hang Seng gained 0.18 percent or 37.81 points to 21556.52.
All major indices in the region had ended the previous session in the green after Chinese third quarter economic growth met market expectations while its September industrial output and retail sales beat forecasts.
But US markets ended lower after search engine giant Google reported weaker than expected third quarter earnings due to falling advertising revenues, pushing the company shares 8 percent down.
Traders were further discouraged after Microsoft also performed worse than predicted, reporting a 22 percent drop in quarterly profits as personal computer (PC) sales dwindled.
Market sentiments were further weakened by weekly jobless claims figures, which increased more than estimated, increasing concerns over the sustainability of improved economic indicators from the previous week.
"The higher-than-expected jobless figure of 388k initial jobless claims was an increase on the previous week's 339k and worse than the expected 366k," said Jason Hughes, head of premium client management at IG Markets.
"It was mainly attributed to seasonal factors. Call me cynical, but that is often the case when there is no other explanation for the data."
Meanwhile, after the first day of the European summit, the continent's leaders have come to a general consensus on setting up a single bank supervisor for the eurozone.
Technology Stocks Drop
Some of the major technology firms in Asia traded lower, following the weaker performance of their US counterparts.
In Tokyo, Casio Computers dropped 2.58 percent while shares of Sony and Sharp fell 0.10 and 0.68 percent. Yahoo Japan was down 3.12 percent.
Shares of the beverages company Kirin Holdings, which had earlier predicted a drop in 2015 sales, traded 2.03 percent lower.
Samsung Electronics, whose phones rely heavily on Google's Android OS, fell 2.47 percent in Seoul. Automobile major Hyundai and Kia were down 1.74 and 2.77 percent.
Lenovo, which manufactures Microsoft Windows-based personal computers, fell 0.79 percent in Hong Kong. iPhone maker Foxconn Holdings dropped 1.97 percent.
Oil producers CNOOC and China Petroleum and Chemical Corp gained 2 percent and 1.10 percent.
Supermarkets operator Sanjiang Shopping Club and Sanjing Pharmaceutical were the major losers in Shanghai, down 4.93 and 4.92 percent.