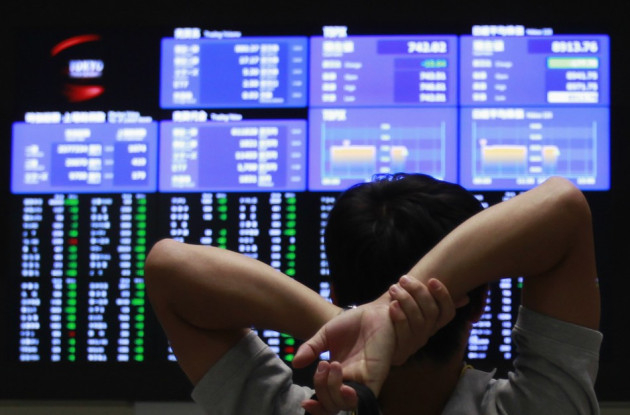 Most Asian markets have gained in morning trading as investors were encouraged by better earnings reports from firms in the region, while awaiting the return of US markets after superstorm Sandy.
Japan's Nikkei gained 0.96 percent or 84.46 points to 8926.44 at 03:06 GMT while South Korea's KOSPI was up 0.63 percent or 11.89 points to 1911.47.
Hong Kong's Hang Seng index rose 0.51 percent or 109.14 points to 21537.72. China's Shanghai Composite index eased 0.14 percent or 2.82 points to 2059.52.
Major US markets were closed for two consecutive days due to safety concerns after Sandy wreaked havoc in along the country's east coast. Asian investors were cautious as analysts suggest that the immediate impact on the market could be unpredictable.
"Market volatility works on the upside as well as the downside, with any glitch that has the immediate impact of reducing liquidity," Mike Lenhoff, chief strategist at Brewin Dolphin told MarketWatch.
"We could find markets fly, oddly enough and contrary to what people might expect."
But market players remained upbeat over improved corporate earnings figures from some of the major firms in the region. Exporters were up in Tokyo after the Yen eased from its highs.
Reports from South Korea also added enthusiasm. Official data showed that industrial output in Asia's fourth largest economy rose 0.8 percent in September from August, after contracting for the previous three months.
Major Movers
Shares of Subaru maker Fuji Heavy Industries were up 6.95 percent after the company upgraded its annual operating profit estimate 22 percent from the previous forecast. Construction equipment manufacturer Komatsu gained 4.20 percent after the company retained its annual profits outlook even after reporting weak earnings in the first half.
Electronic major Sony Corp was up 2.05 percent, while shares of Canon and Toshiba gained 1.42 and 1.77 percent respectively.
Pharmaceutical firms climbed in Seoul. Kun Wha Pharmaceutical Company gained 14.99 percent while Myungmoon Pharm. Company and Yuyu Pharma Inc were up 14.96 and 14.94 percent. Shares of Kukje Pharma Ind. rose 14.93 percent.
Some of the major financial firms were trading higher in Hong Kong. China Construction Bank Corp gained 1.58 percent while shares of Industrial and Commercial Bank of China were up 1.38 percent. Shares in Bank of China rose by 0.43 percent.
Technology firms Yonyou Software Company and Wuhan East Lake High Technology Group Company were the major losers in Shanghai, dropping 10 percent and 7.97 percent.