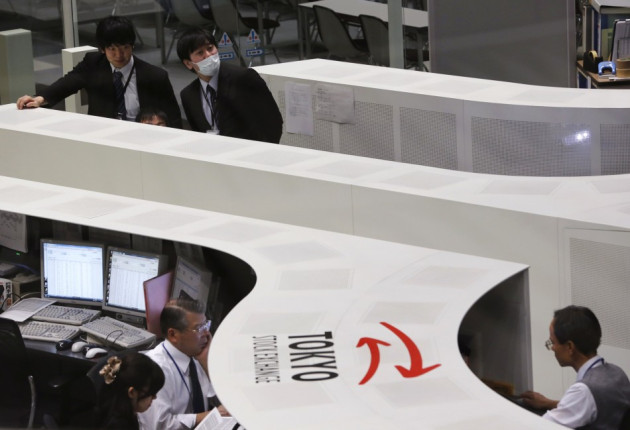 Japanese stocks advanced to an almost nine-month peak after the pro-stimulus Liberal Democratic Party's (LDP) massive election victory, in an otherwise lacklustre morning session for Asian markets.
The Nikkei climbed 1.50 percent or 146.47 points to 9884.03 while South Korea's KOSPI was down 0.08 percent or 1.56 points to 1993.48. Hong Kong's Hang Seng slipped 0.14 percent or 30.58 points to 22575.40. Mainland China's Shanghai Composite Index remained positive, trading 0.58 percent or 12.41 points higher to 2163.03.
Traders in Tokyo remained upbeat after the Liberal Democratic Party (LDP) led by Shinzo Abe won the elections with more than two-thirds of the 480 seats. The LDP's victory further boosted hopes of monetary easing measures from the Bank of Japan due to the party's well known support for unlimited stimulus measures. The yen fell to a 20-month low against the dollar, pushing currency-sensitive stocks higher.
"With the hope that the LDP would manage a victory in this manner, allowing them to push forward with policy changes to weaken the yen and help exporters, Japanese equities have outperformed the region in recent weeks," said Jason Hughes, Head of Premium Client Management at IG Markets in Singapore.
"Now that has materialised, another strong day for the benchmark is surely on the cards."
Chinese stocks picked up after a report from the state-owned news agency Xinhua said that the Communist nation promised to keep its economic policies steady in the coming year, fine-tuning it in tandem with global financial conditions and undertaking further reforms.
Global markets had ended lower in the previous week on mounting concerns of the "fiscal cliff" crisis as the year draws to a close and signs of further weakness in the eurozone with weak German manufacturing figures.
US House of Representatives Speaker John Boehner has offered to support President Barack Obama's move to hike tax rates for the wealthy if the president allowed considerable cuts to entitlement programme expenses. The change of stand by the Republicans is seen as an indication of a solution soon, but a deal is yet to be finalised even as the deadline nears.
Major Movers
Japanese utility firms jumped in Tokyo. Shares of Tokyo Electric were up 32.89 percent while those of Kansai Electric rose 13.68 percent. Chubu Electric gained 7.56 percent.
Metal stocks gained in mainland China. Aluminum Corp was up 1.62 percent while Jiangxi Copper gained 3.76 percent. Property firms traded lower in Hong Kong. Shares of Wharf Holdings were down 1.49 percent while those of China Overseas Land and Investment fell 1.05 percent.
South Korean pharmaceutical firms declined. Wooridul Pharmaceutical was down 13.67 percent while Kun Wha Pharmaceutical and Yuyu Pharma dipped 7.83 and 6.39 percent.