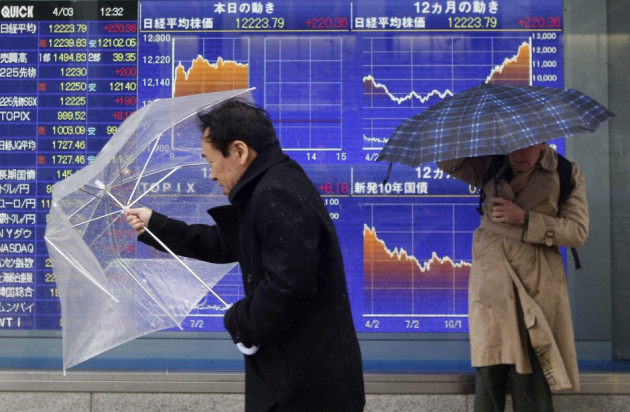 Most Asian markets gained on expectations of pro-growth monetary policies from global central banks, while Japan disappointed with weak industrial production and subdued retail sales in March.
Japan's Nikkei Stock Average declined 0.4% or 59.47 points to 13,824.7. Australia's S&P/ASX 200 rose 1% or 51.8 points to 5,177.6, reaching a fresh 52-week high. South Korea's KOSPI advanced 1.1% or 20.90 points to 1,961.6.
In Hong Kong, the benchmark Hang Seng index rose 0.7% or 160.9 points to 22,741.7. The China market is closed until Thursday.
The formation of a coalition government under Prime Minister Enrico Letta in Italy, ending a two-month long political impasse in the country, and the robust housing sales data from the US have bolstered investor risk appetite.
Following the formation of the new government, Italy's five- and 10-year borrowing costs declined to their lowest level since October 2010 at a bond sale. Letta also hinted a policy change to shift focus from austerity measures to economic growth.
The European Central Bank (ECB) is expected to cut the euro zone's main interest rate by 25 basis points at its meeting on Thursday, given the worsening conditions in the European economy.
In the US, consumer spending rose unexpectedly in March and a private survey showed that signed contracts to buy previously owned homes rose 1.5 percent last month to the highest level since April 2010.
Given the positive data, the Federal Reserve may consider renewing its commitment to bond-buying at its two-day meeting due to begin during the day.
Japan's March industrial output climbed 0.2% from the previous month, but was less than the average 0.4% forecast by economists. Other data showed retail sales fell 0.3% in March. Following the data, the US dollar declined against the yen.
South Korea's industrial output fell 2.6% in March, a separate report showed.
In Australia, banks backed by upbeat earnings reports spearheaded the gain on the stock market that rose to a new high for the year.
Major Movers
In Japan, industrial automation company FANUC Corp fell 7.5%, technology company Ricoh Co declined 6.5% while electronics firm NEC Corp shed 6.3%.
Australia & New Zealand Banking surged 4.7% after posting a 10% gain in cash profit, while National Australia Bank rose 2.2%, Westpac Banking gained 2%, Commonwealth Bank of Australia rose 1.3%, and Macquarie Group was trading 1.7% higher.
In Korea, biotechnology firm Orientbio rose 15%, Asia Pacific No 2 Ship Investment advanced 14% and apparel maker In the F Co. gained 12%.