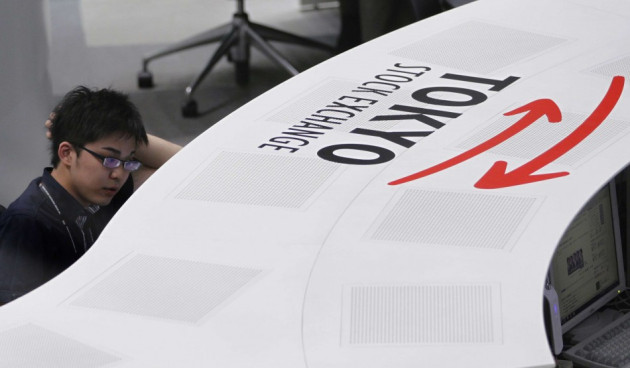 Asian markets extended gains in the morning trade as Japan's industrial production showed improvement and its government initiated further stimulus measures. But traders remained cautious as US lawmakers continued 'fiscal cliff' negotiations.
Japan's Nikkei traded 0.90 percent or 84.45 points higher to 9485.33. Camera-maker Nikon and machinery parts manufacturer NTN Corp were the major gainers, up 3.93 and 3.03 percent respectively.
South Korea's KOSPI gained 0.10 percent or 2.00 points to 1936.85. Joongang Construction Company, up 55.83 percent and Handok Pharmaceuticals, which gained 13.47 percent were the top movers.
Hong Kong's Hang Seng was up 0.62 percent or 134.96 points to 22057.85. Property stocks gained most. China Resources Land rose 3.75 percent while China Overseas Land & Investment gained 1.56 percent.
China's Shanghai Composite Index rose 0.42 percent or 8.16 points to 1971.65. Ningbo Construction Company, up 10.07 percent and Hualing Xingma Automobile Company, which gained 9.97 percent were the better performers.
Official data from Japan's trade ministry showed that Japanese industrial output gained for the first time in four months in October, by 1.8 percent, raising speculations that the impact of the global economic slump and disputes with China may be over. In September the output had dropped 4.1 percent.
The release was followed by the Japanese government announcing its second stimulus package in just over a month, worth 880.3 billion yen ($10.74bn) to boost its lagging economy ahead of the elections on 16 December.
Data from South Korea showed improvement from the previous month. The country's manufacturing industrial production gained 0.7 percent in October, although dropping 0.8 percent annually.
India's Gross Domestic Product (GDP) is set for release later in the day while China will release its manufacturing Purchasing Managers Index (PMI) tomorrow.
Political wrangling over the 'fiscal cliff' continued in the US. Concerns increased after U.S. House of Representatives Speaker John Boehner said that the negotiations to avoid the tax hikes and spending cuts had not made much progress in the past two weeks. This was followed by Democratic Senate Majority Leader Harry Reid lashing out that his party was still awaiting a logical plan from the Republicans. Traders remain wary of the potential impact that the proposed fiscal measures could have on the equity markets.