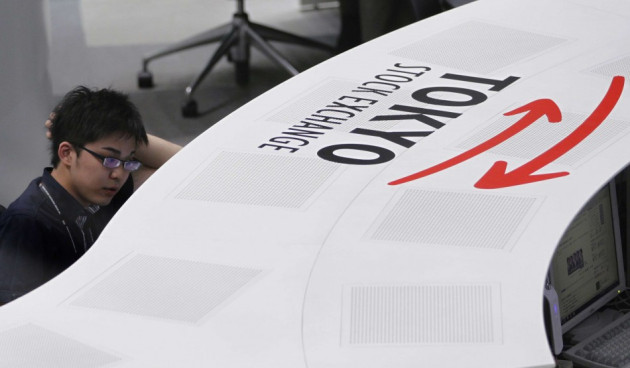 Asian markets reported mixed trading in the morning as Japanese stocks recovered from the previous session's slump as the yen resumed its dip against the dollar.
The Nikkei average share index traded 0.18 percent or 19.30 points up to 10619.74 while Australia's S&P/ASX 200 added 0.84 percent or 39.80 points to 4778.20. South Korea's KOSPI eased 0.44 percent or 8.71 points to 1968.74.
In Hong Kong, the Hang Seng eased 0.09 percent or 20.64 points to 23336.35, while mainland China's Shanghai Composite Index slipped 0.72 percent or 16.65 points to 2292.85.
Japanese traders remained positive after the benchmark index dipped 2.6 percent in the previous day, its largest single-day drop in about eight months. Early this week the gauge had climbed to its highest level in over 30 months, mainly on the back of a weak yen that boosted earnings optimism in the export-dependent economy.
The greenback gained as much as ¥88.76, recovering from about ¥88.07 reached in the previous Japanese trading session. The Bank of Japan (BoJ) is set to meet for a policy review early next week and traders remain hopeful that the central bank will buckle under government pressure to take up growth boosting measures. Japan's newly elected administration, which supports unlimited monetary easing steps to improve the economy, had demanded BoJ raise its inflation target to 2 percent.
"We expect the two-day meeting of the Bank of Japan's Policy Board to conclude next Tuesday with a joint statement on policy cooperation between the Bank and the government, the unveiling of a 'new' inflation target of 2 percent, and another increase of at least ¥10 trillion in the ceiling on the asset purchase programme," said Julian Jessop, economist at Capital Economics.
"Anything less and the markets would now be sorely disappointed, but even these announcements may be less substantial than they first appear".
Airline stocks fell in Japan after the US authorities decided to ground all Boeing Dreamliner jets on safety concerns. All Nippon Airways (ANA) which owns 17 of the aircraft, traded 0.55 percent lower while its rival Japan Airlines dropped 0.27 percent. The jet's battery manufacturer GS Yuasa Corp was down 4.98 percent after ANA said that the battery of its troubled aircraft was discoloured.
Electronic major Sharp's shares gained about 10.2 percent following Nikkei reports that the firm was considering a tie-up with the Chinese technology firm Lenovo. The latter's stocks traded about 1.42 percent lower in Hong Kong.
Australian unemployment figures released early in the day showed that the jobless rate increased to 5.4 percent from 5.3 percent in the previous month, as weakness outside the mining sector discouraged businesses. The numbers were in line with expectations. A lacklustre economic outlook had prompted the Reserve Bank of Australia to lower its benchmark interest rate in December, for the fourth time in 2012.