Asian Markets End Mixed on Global Economic Worries
Japanese GDP slows, raising concerns of recession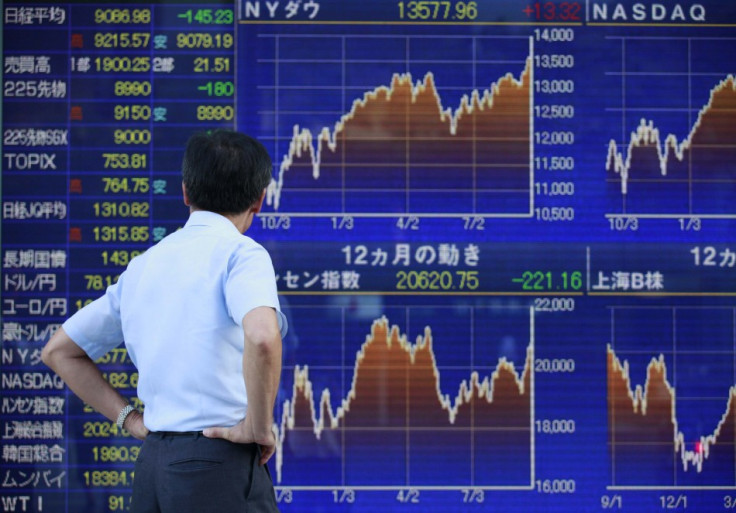 Asian markets have ended mixed as recession fears set in in Japan after the country's economy contracted in the quarter ending September, while the Chinese economy continued to show positive signs.
Japan's Nikkei average fell 0.93 percent or 81.16 points to 8676.44, while South Korea's KOSPI was down 0.19 percent or 3.54 points to 1900.87.
Hong Kong's Hang Seng gained 0.21 percent or 45.92 points to 21430.30. China's Shanghai Composite index was up 0.49 percent or 10.21 points to 2079.27.
India's Bombay Stock Exchange Sensex traded 0.24 percent or 44.16 points lower to 18633.25 at 09:11 AM GMT.
Chinese export data released over the weekend had shown that shipments from the world's second largest economy rose 11.6 percent in October, beating forecasts of 10 percent.
The data followed stronger industrial output and retail figures released earlier, and added to speculations that the economic slowdown in China is coming to an end.
But news from Japan dampened investor sentiments. Official data showed that the country's economy contracted 0.9 percent from July to September as the slowing global economy and disputes with China hurt Japanese exports.
Traders in India were discouraged after a government report showed that that the country's industrial output contracted 0.4 percent in September. The data was in sharp contrast to the 2.8 percent growth forecast by a Reuters poll.
Concerns on the global economy too impacted traders' risk appetite. US markets had ended the previous week with modest gains as worries over the "fiscal cliff" continued. President Barack Obama has initiated efforts to solve the issue, inviting political leaders to reach a consensus.
European worries continued following reports that Athens may not receive the vital international aid as soon as expected, even after passing a tough budget that included fresh spending cuts.
Major Movers
Shares of Yokohama Rubber and COMSYS Holdings ended lowest in Tokyo, down 6.33 and 5.99 percent.
Japanese financial firms gained. Shares of Bank of Yokohama were up 4.42 percent while those of Chiba Bank and Shizuoka Bank gained 1.75 and 1.62 percent.
Construction firms ended lower in Seoul. Namkwang Engineering fell 15 percent while Joongang Construction was down 14.96.
Property related stocks gained in Hong Kong. China Resources Land was up 1.66 percent while shares of Wharf Holdings and Henderson Land Development gained 1.13 and 0.66 percent.
Shanghai Industrial and Datang Huayin Electric Power were the major gainers in Shanghai, up 10.06 and 10.05 percent.
In India, Tata Steel and Hero Motorcorp traded lowest, down 1.86 and 1.67 percent.
© Copyright IBTimes 2023. All rights reserved.