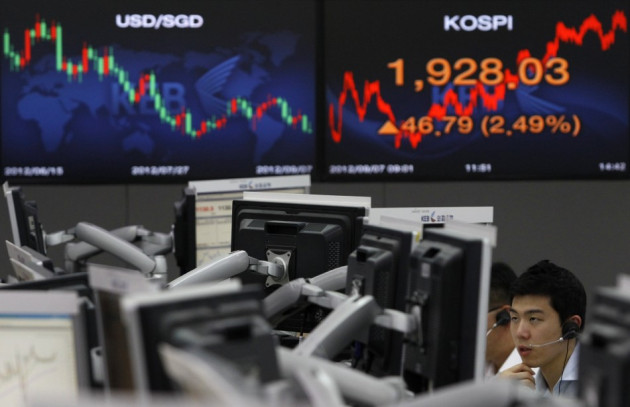 Most Asian markets have gained as investors remain encouraged by improved manufacturing and jobs data from the US, after strong indicators from China.
Japan's Nikkei gained 0.99 percent or 88.49 points to 9035.36 at 02:48 GMT. South Korea's KOSPI was up 0.93 percent or 17.75 points to 1916.19.
China's Shanghai composite index slipped 0.26 percent or 5.54 points to 2098.88. Hong Kong's Hang Seng index traded 1.27 percent or 277.95 points higher to 22099.82.
Sentiment was buoyed by data from the US showing that 158,000 private sector jobs were created across the country in October, and the weekly jobless claims dropped by 9,000 to a seasonally adjusted 363,000.
"At this level unemployment will creep up but should remain just under 8% which is political ammunition for a would-be US president," said Justin Harper, market strategist at IG Markets.
Separate data also showed that the country's manufacturing expanded to 51.7 in October while sales of new cars and trucks jumped 7 percent year-on-year to 1.1 million.
The positive figures from the world's largest economy added to hopes of a global economic recovery after manufacturing data from China showed improvement. Official figures had showed that China's Purchasing Managers Index surged to 50.2 in October from 49.8 in the previous month.
Major Movers
Automobile stocks surged in Tokyo after reports of improved car sales in the US. Toyota Motor Corp gained 0.97 percent while Nissan Motor Company and Honda Motor Company were up 1.34 and 2.76 percent respectively.
Shares of Panasonic extended losses, sliding 1.45 percent after the company reported a massive quarterly loss. Sharp Corp, which reported a quarterly loss of Y249.1, fell 4.73 percent.
Exporters were up in Seoul as well. Shares of Samsung Electronics were up 2.47 percent while those of LG Electronics gained 2.23 percent.
Hyundai Motor Company was down 0.69 percent following reports that the company's US sales had fallen 4.1 percent in the previous month. Shares of its rival Kia Motors Corp gained 0.67 percent.
Metal-related stocks dropped in China. Inner Mongolian Baotou Steel Union Company was down 3.83 percent. Shares of Aluminum Corp of China and Jiangxi Copper Company were down 0.40 and 1.20 percent.
The financial sector gained in Hong Kong. Shares of The Bank of East Asia were up 2.80 percent while those of China Overseas Land & Investment were up 2.43 percent. China Resources Land gained 2.37 percent.