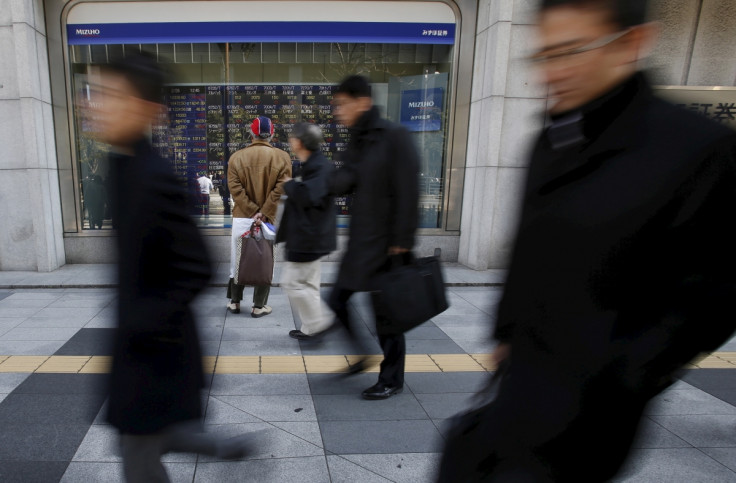 Most stock markets across Asia were in positive territory on 5 October as investors shrugged off overnight losses on Wall Street.
Tokyo's benchmark Nikkei share average was up by 0.6% at 16,839.59 points in the afternoon session, despite reports that the European Central Bank's governing council had reached an informal consensus on winding down its quantitative easing programme.
Investor sentiment in the US was rattled after Richmond Federal Reserve President Jeffrey Lacker said he was in favour of pre-emptively raising interest rates to ward off inflationary pressures.
"Pre-emptive increases in the federal funds rate are likely to play a critical role in maintaining the stability of inflation and inflation expectations," he said in a speech delivered in Charleston, West Virginia.
"The current target range for the federal funds rate, at 25 to 50 basis points, is extremely low relative to the benchmarks... that capture historically successful policy."
US stocks lost ground overnight, with the Dow Jones and S&P 500 share averages both closing down 0.5%.
Rest of Asia
Hong Kong's Hang Seng share average advanced 0.3% to 23,767.43 points, despite a private survey indicating that the autonomous territory's factory sector contracted in September.
The Nikkei manufacturing purchasing managers' index (PMI) rose to 49.3 from 49.0 in August. A reading below 50 indicates contraction.
In South Korea, the Kospi index edged 0.1% lower to 2,053.41 points, while Australia's S&P/ASX 200 benchmark retreated 0.6% to 5,452.90.
"A reduction in the ECB's bond buying programme will no doubt shock the strategist community, although as the day goes on we will hear from many who claim the ECB were never going to extend the asset purchase programme past March 2017," said Chris Weston, market analyst at IG in Melbourne.
"We can point to eurozone real GDP having grown above trend for some time, credit growth showing signs of 'green shoots' and European corporates issuing more debt than at any other point in history – largely as a result of the ECB's policies having a strong effect on reducing borrowing costs."
Mainland Chinese markets remain closed for the Golden Week holidays.