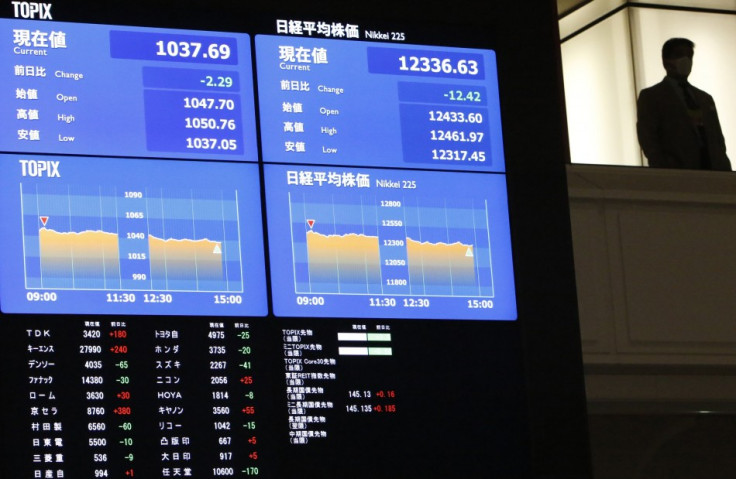 Most Asian markets declined in the morning trade as the US employment data failed to meet investor expectations, while Japan gained on continued weakness of the yen after the central bank's stimulus plans.
Japan's Nikkei Stock Average gained 2 percent or 258.31 points to 13091.9 and Australia's S&P/ASX 200 was up 0.2 percent or 11.60 points to 4903.
Mainland Chinese stocks stumbled as the markets reopened after a four-day weekend, with the Shanghai Composite index falling 0.1 percent or 2.44 points to 2225.3, due to concerns about the spread of a new strain of bird-flu virus. Meanwhile, in Hong Kong, the benchmark Hang Seng Index declined 0.2 percent or 36.49 points to 21690.4.
South Korea's KOSPI was at 1925.8, down 1.40 points or 0.07 percent.
On 4 April, the Bank of Japan (BOJ) under the newly-elected Governor Haruhiko Kuroda announced that it will increase its monthly bond purchases to 7.5tn yen ($76bn, £53tn), above the 5.2tn yen forecast by economists. Following the announcement, the yen continued its fall against the US dollar.
A report in the Japanese Nikkei business daily earlier said that the BoJ is likely to buy this week 1.2 tn yen of government bonds with a maturity of over five years, boosting market optimism. The US dollar has gained 0.9 percent to 98.49 yen after hitting the highest since June 2009 at 98.78 yen in the morning.
Further, a weaker-than-expected US nonfarm payrolls report added to the worries about the US economic recovery. The US Labour Department earlier said that the economy created just 88,000 new jobs in March, less than half the 200,000 expected by analysts.
Australian market was helped by improved optimism in the mining resource sector. The resource shares were particularly backed by a rally in gold futures after the weak job report from the US.
In China and Hong Kong, the ongoing concerns about the spread of bird-flu virus along with the US job data affected the market sentiments. The deadly H7N9 virus has killed six people since March, according to authorities.
The Shanghai index has been suffering for the last two months due to concerns that the property cooling measures in China would affect economic growth negatively.
The weakness of the yen and rising tensions in the Korean peninsula proved harmful for the KOSPI constituents.
Major Movers
In Japan, Toyota Motor gained 3 percent on the yen's weakness while Sharp jumped 5 percent. Suzuki Motor rallied 6.2 percent and steel maker JFE Holdings was up 6.1 percent.
Australia's Newcrest Mining jumped 2.1 percent, oil-services frim Santos rose 1.1 percent, mining giant BHP Billiton added 1.5 percent, and Fortescue Metals climbed 0.6 percent.
In Hong Kong, real estate stocks Henderson Land, Sino Land and New World Development declined by 2.2 percent, 2 percent and 1.4 percent, respectively. Other major losers include consumer products firm Want Want China Holdings and China Resources Power who were down 2.6 percent and 1.7 percent, respectively.
Leading the losses in Shanghai, Air China was down 7.1 percent and China Southern Airlines shed 5.4 percent.
In South Korea, Hanil Engineering & Construction led the losers with a 15.7 percent decline, followed by Korea Circuit and Chunil Express who fell by 12.8 percent and 12 percent, respectively.