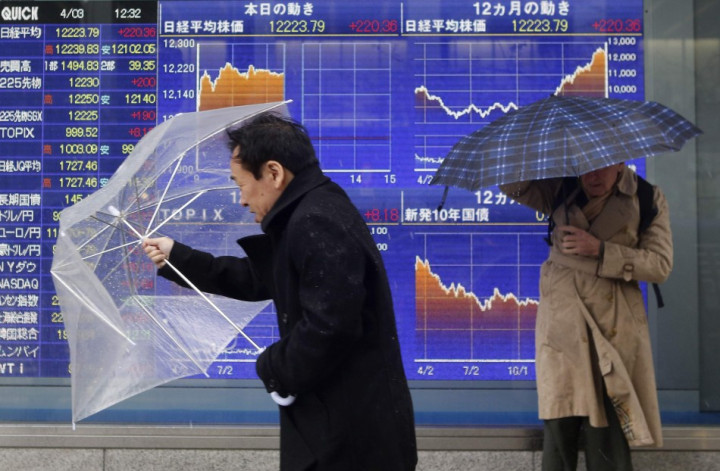 Markets across Asia gained this week as a strong start to the US earning season, Japan's insistence on aggressive monetary easing and signs of growing recovery in China bolstered investor confidence. The only exception was Korea, which suffered as tension over North Korea's sabre-rattling continued to mount.
Japan's Nikkei average index added 5.1 percent in the week, marking its third consecutive weekly gain. That was despite a 0.5 percent fall on Friday, after opening up 0.1 percent at 13,568.25, its highest level since July 2008.
The benchmark index has surged 52 percent since mid-November when Prime Minister Shinzo Abe promised expansionary fiscal and monetary policies to contain inflation and spur economic growth in his election campaign.
The Bank of Japan had earlier promised huge spending on asset purchases to fight domestic deflation. That has helped stocks soar as the yen tumbled to new lows against the US dollar.
China's Shanghai Composite Index was up 0.7 percent and Hong Kong's Hang Seng gained 1.8 percent during the week. Meanwhile, Australia's S&P/ASX 200 gained 2.4 percent.
The markets particularly gained from the bright start of the US earnings season, indicating a recovery in the world's largest economy.
China's March trade data released on 10 April showed that the country's imports rose to an above-forecast 14.1 percent, which contributed to an unexpected trade deficit for the month. The increase in imports was seen as signs of improved domestic consumption in China. Further, consumer price inflation eased in March as food prices retreated after the bird flu outbreak in the country.
In Hong Kong, the Hang Seng gained from improved prospects in the real estate sector, while the Australian benchmark index benefited from the core mining industry and financial services sector.
Mounting tensions in the Korean peninsula have affected South Korea's market outlook and the benchmark Kospi index shed 0.2 percent during the week. Amid rising concerns about an impending war, a Pentagon spy agency earlier concluded for the first time that North Korea probably has the ability to launch nuclear-armed missiles.
The Week Ahead
Earnings reports from US financial giants such as American Express, Goldman Sachs, Bank of America and Citigroup as well as from tech majors including Google and Yahoo will be vital for global markets in the coming week. Other key economic data from the US include the Fed's Beige Book and data on consumer inflation and housing starts.
Japan is due to release the revised estimate of its February industrial production, the consumer confidence index for March and external trade data. Meanwhile, China is set to release its first quarter GDP data together with spending and activity figures for March.