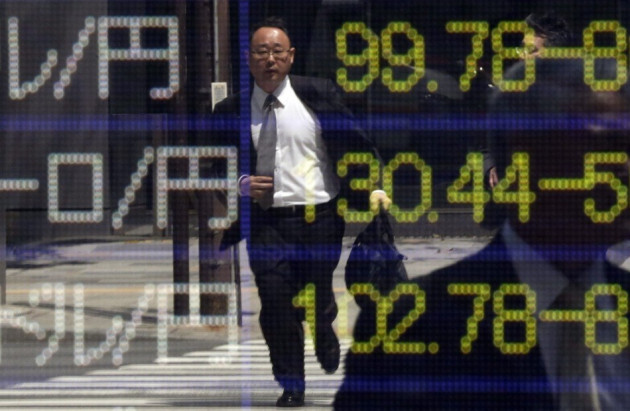 Asian markets with the exception of quake-hit China have gained on further weakening of the yen after the G20 meeting approved the Bank of Japan's aggressive monetary easing measures.
Japan's Nikkei Stock Average rose 1.9 percent or 258.23 points to 13,574.7 after trading as high as 13,611.6, its highest since June 2008. South Korea's KOSPI gained 0.5 percent or 9.8 points to 1,916.6. Australia's S&P/ASX 200 advanced 0.2 percent or 12.4 points to 4,941.
Meanwhile, the Shanghai Composite index declined 0.3 percent or 7.07points to 2,237.3. In Hong Kong, the benchmark Hang Seng index gained 0.1 percent or 3.03 points to 22,018.7.
Earlier, the yen reached close to the symbolic 100 yen/dollar mark, after the G20 meetings in Washington gave nod to BoJ's anti-deflationary measures. The dollar, which rose to 99.89 previously, is currently trading at 99.81 yen. On 11 April, the currency reached a four-year high of 99.95 yen.
"Winning international understanding gives me more confidence to conduct monetary policy appropriately. We will continue our qualitative and quantitative easing for the next two years," the central bank head Haruhiko Kuroda said in a response to the G20 decision.
The benchmark Nikkei index has gained 57 percent and the yen has weakened 24 percent against the dollar since mid-November, when Shinzo Abe, who became prime minister in December, promised bold monetary and fiscal expansionary policies to contain deflation in the country and spur growth.
Meanwhile, the Australian stocks rose in early trading amid a mixed picture for the key mining and energy sectors.
In last week's commodities trading, oil and gold advanced while copper, silver and some others extended losses, leading to split moves in Australian resource stocks. Gold prices have rebounded 5.4 percent since its biggest one-day loss in three decades on 15 April. Copper further dropped 0.8 percent to $6,935 a metric ton after entering a bear market last week.
Mainland China stocks declined in the first session of trade in the aftermath of a deadly magnitude 7.0 earthquake that hit the Sichuan province of China over the weekend. At least 186 deaths were reported in the disaster, with the number of injured crossing 11,500.
The Hong Kong index gained slightly amid mixed performances from property developers and insurers.
Major Movers
In response to the yen's fall, Japanese exporters Oki Electric Industry rose 9 percent, JTEKT Corp. rose 9.4 percent, Shimizu Corp. was up 7.3 percent and Mazda Motor gained 5.9 percent. Mitsui Engineering & Shipbuilding surged as much as 20.7 percent to a near two-year high after media reports suggested that Mitsui and Kawasaki Heavy Industries were set to begin merger talks.
In Australia, BHP Billiton eased 0.2 percent lower and Fortescue Metals dropped 1.3 percent. Alumina Ltd rallied 3.7 percent and Woodside Petroleum added 1 percent. Shares of Oz Minerals plunged 4.4 percent after it cut its copper-production outlook.
Shanghai's Shanxi Xinghuacun Fen Wine Factory fell 8.3 percent and real estate firms Wuhan Double and Nanjing Chinxia Development shed 4.3 percent and 1.8 percent, respectively.