Asian Markets Outside Shanghai and Sydney Gain Ahead of US Stimulus Decision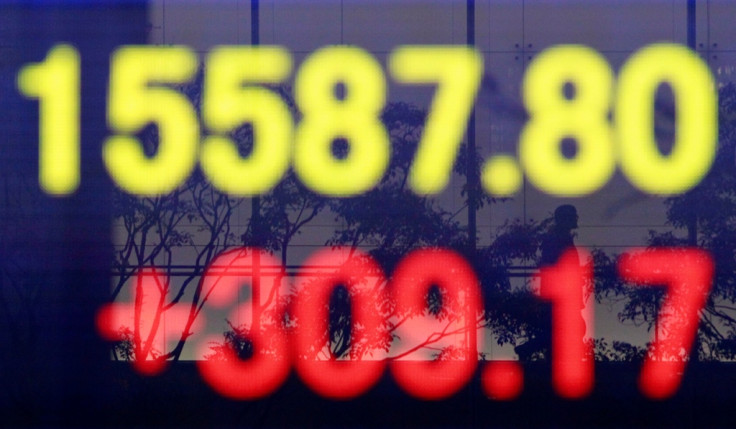 A bulk of all Asian markets traded higher on 18 December, ahead of the conclusion of the US Federal Reserve's last policy meeting for the year.
The Japanese Nikkei finished 2.02%, or 309.17 points, higher at 15,587.80.
South Korea's Kospi finished 0.45%, or 8.89 points, higher at 1,974.63
Australia's S&P/ASX finished 0.14%, or 7.10 points, lower at 5,096.10.
The Shanghai Composite finished 0.13%, or 2.79 points, lower at 2,148.29
India's BSE Sensex was trading 1.28%, or 263.96 points, higher at 20,876.10.
Hong Kong's Hang Seng was trading 0.32%, or 75.86 points, higher at 23,142.09
The Fed will put out a policy statement at around 19:00GMT, and Chairman Ben Bernanke will address a news conference thereafter. The central bank could reveal a reduction in its $85bn-a-month bond buying stimulus.
Societe Generale Cross Asset Research said in a note to clients: "Ahead of the US Fed decision tonight, markets have been rather subdued in Asia, although stock markets are surprisingly strong given overnight weakness in Europe and the US."
"Japanese stocks were supported by a weaker yen after trade data slightly disappointed. Meanwhile, latest data suggested that Chinese property prices continue to decelerate, albeit at a very gradual pace."
"The Australian dollar continues to weaken - dropping below 0.89 against the USD - encouraged by a fairly dovish testimony from RBA Governor Stevens. All that said, the market focus today is clearly on the Fed," the French bank added.
In Japan, the benchmark Nikkei index was boosted by speculation that Prime Minister Shinzo Abe could, on 19 December, make public details of the so-called "third arrow" of a three-pronged strategy to boost growth in the world's third-largest economy.
In India, the benchmark Sensex was boosted by The Reserve Bank of India's (RBI) surprise move to leave its key lending rate and banks' cash reserve ratio unchanged.
The RBI left the repurchase interest rate at 7.75%, while the reserve ratio remained at 4%. Economists had forecast a quarter percentage point hike amid surging inflation in Asia's third-largest economy.
Data from China showed that home prices continued to rise despite government measures aimed at cooling the property market.
Prices of new homes rose 9.9% on an annual basis in November, reported Reuters. Home prices rose 9.6% in the preceding month.
Elsewhere, in Australia, central bank governor Glenn Stevens warned that an Australian dollar above 90 US cents was not apt for the economy.
In his biannual parliamentary testimony, Stevens said: "Looking ahead, resource sector investment will decline – gradually at first but more quickly thereafter. It will most likely fall considerably over the next few years. There is therefore scope for other forms of private demand to grow more quickly, the more so as government spending is scheduled to be subdued."
"Our expectation is that the below-trend growth in GDP we have seen for a while now will probably continue for a bit longer yet," Stevens added.
Wall Street Down
On Wall Street, indices ended slightly lower on 17 December, ahead of the Fed QE taper decision.
The Dow finished 9.31 points, or about 0.1%, lower at 15,875.26.
The S&P 500 ended 5.54 points, or 0.3%, lower at 1,781.00.
The Nasdaqclosed 5.84 points, or 0.1%, lower at 4,023.68.
"There is enough ammunition for [the Fed] to start off even in a timid fashion [on 18 December], so we're acknowledging the possibility but holding out the probability of March," Mark Luschini, chief investment strategist at Janney Montgomery Scott told CNBC, referring to recent data showing an improving economy and labour market.
Company Stock Movements
In Tokyo, exporters' stock rallied on the back of a weaker yen. Industrial robots maker Fanuc, automaker Honda Motor and gaming major Nintendo finished 3% higher each.
In Hong Kong, Kunlun Energy dropped fell 2% after the firm said a top executive had quit as chairman owing to "personal matters."
In Mumbai, state-owned banks outperformed their private sector rivals following the central bank announcement. Canara Bank shot up 4.9% while Bank of India gained 4.6%.
© Copyright IBTimes 2023. All rights reserved.