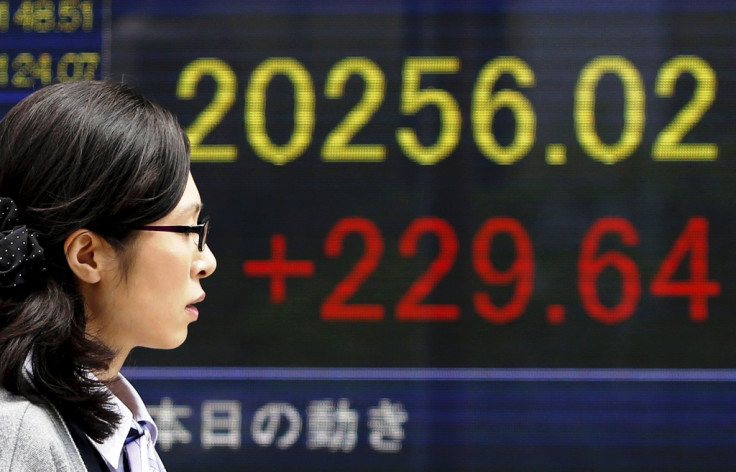 Asian markets outside Hong Kong and Sydney traded higher on 20 May after Japan put out strong GDP data.
The Japanese Nikkei finished 0.85%, or 170.18 points, higher at 20,196.56.
The Shanghai Composite finished 0.65%, or 28.74 points, higher at 4,446.29.
Hong Kong's Hang Seng finished 0.39%, or 108.49 points, lower at 27,585.05.
Australia's S&P/ASX finished 0.09%, or 5.20 points, lower at 5,610.30.
South Korea's Kospi finished 0.88%, or 18.69 points, higher at 2,139.54.
India's S&P BSE Sensex finished 0.69%, or 191.68 points, higher at 27,837.21.
Market movements
The Nikkei surged and settled at a new 15-year peak after data showed that Japan's economy, Asia's second-largest, expanded at an annualised rate of 2.4% during the January-March quarter, beating expectations for 1.5% growth.
Capital Economics said in a note to clients: "The acceleration in GDP growth last quarter was mostly due to a jump in inventories, and a range of indicators point to a slowdown in the second quarter."
Commerzbank said in a note: "During the course of the year the BoJ will have to face the fact that its current monetary policy is not having a proper effect on the real economy. But it is likely to take some more time before coming up with creative ideas. Analysts do not expect to see renewed easing at the BoJ meeting on [22 May]. USD-JPY is likely to feel comfortable in the area around 120 for the time being."
Company stocks
In Tokyo, office-supplies dealer Askul surged 11.88%. Office machinery maker Konica Minolta added 2.32% a day after it announced it will buyback up to 10 million shares.
Cosmetics maker Shiseido jumped 6.9%.
Air-bag maker Takata fell 10.22% a day after it announced plans to double a recall of faulty air bags to nearly 34 million vehicles.
In Shanghai, China Southern Airlines and China Eastern Airlines added 3.44% and 2.53% respectively, buoyed by lower crude oil prices.
In Sydney, Liquefied Natural Gas lost 4.95%. Oil and gas major Santos lost 3.83% while Origin Energy lost 2.2%, pulled down by lower oil prices, which fell 3.65% overnight
Iron ore miner Fortescue Metals and rival BHP Billiton lost, 6.76% and 2.73% after ore prices dropped to $58.63 a tonne.
Electronics retailer JB Hi-Fi lost 2.24% even after a private survey of consumer sentiment showed that consumer confidence in Australia, in May, shot up 6.4% post a rate cut and the federal budget.
In Seoul, securities firms Samsung Securities and Daewoo Securities gained 5.96% and 5.16% respectively.