Asian markets roundup: Bourses outside Hong Kong and India rise despite weak China data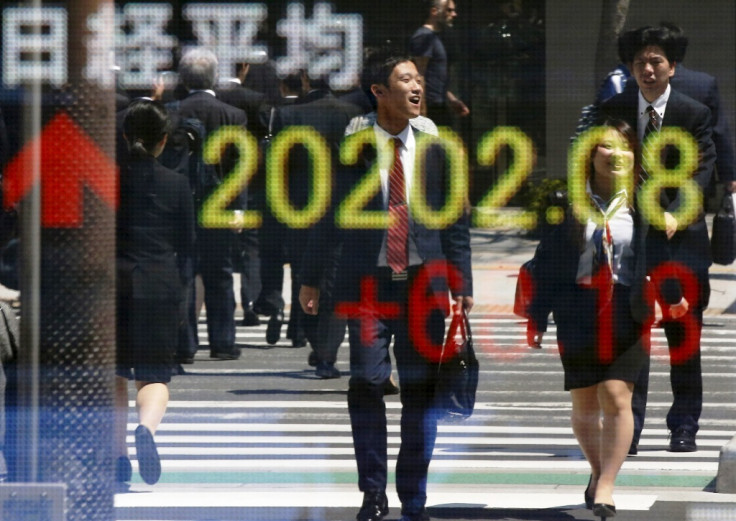 Asian markets outside India and Hong Kong traded higher on 23 April, with markets in Tokyo and Seoul scaling new highs, even after a private survey showed that China's factory contracted in April.
The Japanese Nikkei finished 0.27%, or 53.75 points, higher at 20,187.65.
Australia's S&P/ASX finished 0.13%, or 7.30 points, higher at 5,844.80.
South Korea's Kospi finished 1.38%, or 29.52 points, higher at 2,173.41.
The Shanghai Composite finished 0.36%, or 16.01 points, higher at 4,414.51.
Hong Kong's Hang Seng finished 0.38%, or 106.15 points, lower at 27,827.70.
India's S&P BSE Sensex finished 0.56%, or 155.11 points, lower at 27,735.02.
Market movements
The Nikkei continued its advance above the 20,000 mark on Thursday, closing at a 15-year high for a second session in a row.
Stan Shamu, IG market strategist, said in a note to clients: "The Nikkei has rallied 33% in the past six months and [that] is down to the fact the Bank of Japan (BoJ) and the Abe government are working on the same page with mass fiscal and monetary policy stimulus.
"What looks like taking the Nikkei higher still is signs the BoJ is considering even more stimulus as it fails to reach its 2% inflation target within the allotted time frame of two years."
Meanwhile, the Kospi finished at a new three-and-a-half-year high on the back of better-than-expected corporate results and after first-quarter GDP data beat expectations.
South Korea's economy expanded 0.8% on-quarter during the January-March period, following a 0.3% rise in the preceding three-month period, government data released ahead of the market open showed. The economy grew 2.4% on an annual basis in the first-quarter.
Company Stocks
In Tokyo, Nomura Holdings finished 2.94% higher while Daiwa Securities closed 2.54% higher.
PlayStation maker Sony finished 1.62% lower.
In Seoul, LG Display finished 2.61% higher after reporting its best quarterly profit in over four years.
Automaker Hyundai Motor finished 3.24% higher after it announced a first-quarter net profit of 1.91tn won, which is 1% lower from a year ago.
In Shanghai, Baotou Steel finished 2.97% higher and Shanghai Oriental Pearl Group surged 10%.
In Hong Kong, casino operator Sands China finished 2.61% lower.
In Mumbai, Cairn India finished 2.22% lower. Analysts expect the oil and gas major to deliver its worst quarterly numbers in five years amid the crude oil rout.
© Copyright IBTimes 2023. All rights reserved.