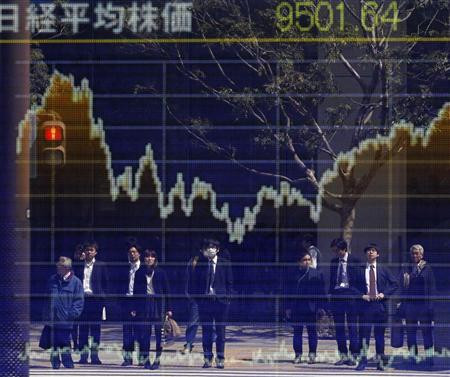 Major Asian indices continued their sell-off for a third consecutive day as the European Central Bank (ECB) failed to offer any new stimulus measures after its policy meet on 2 August.
Japan's Nikkei 225 Stock Average dropped 1.6 percent in morning trade and the MSCI Asia Pacific Index (MXAP) lost 1.2 percent, a loss of half of its weekly gain. Shares of consumer electronics makers such as Sharp and Sony dropped the most, 30 percent and 8.5 percent respectively in Japan, hit by heavy quarterly losses. Both the companies cut their fiscal year profit forecast.
Australia's S&P ASX 200 dropped 0.9 percent and Seoul's Kospi off 0.3 percent in morning trade.
ECB President Mario Draghi did not offer any immediate action on how to intervene to save the euro when he kept the bank's key lending rate unchanged at 0.75 percent and the benchmark deposit rate at zero.
Though Draghi indicated that the bank may resume bond buying to reduce Spanish and Italian bond yields, he stopped short of setting any time frame.
"The governing council ... may undertake outright open market operations of a size adequate to reach its objective," Draghi told reporters. But analysts are not expecting a rate cut before September and the resumption of bond buying.
Draghi earlier said that he would do "whatever it takes" to save the euro but Germany's reservations over the ECB bond purchases are thought to be the major reason behind the ECB's latest action.
"It's clear and it's known that Bundesbank have their reservations about the programme of buying bonds. The idea is we now have the guidance, the monetary policy committee, the risk committee and the markets committee will work on this guidance and then (we) will take a final decision and the votes will be counted," Draghi said.
Apart from the ECB, the US Federal Reserve also failed to deliver an immediate boost to the economy and the Chinese central bank just said it would pursue a prudent policy to ensure growth.
"What was delivered was a commitment to action but not immediately. China has more scope to do more both in terms of monetary policy and fiscal policy, but it's not doing much," Shane Oliver, Sydney-based head of investment strategy at AMP Capital Investors told Bloomberg.