Asian Markets Rise as Korea GDP Growth Hits Two-Year High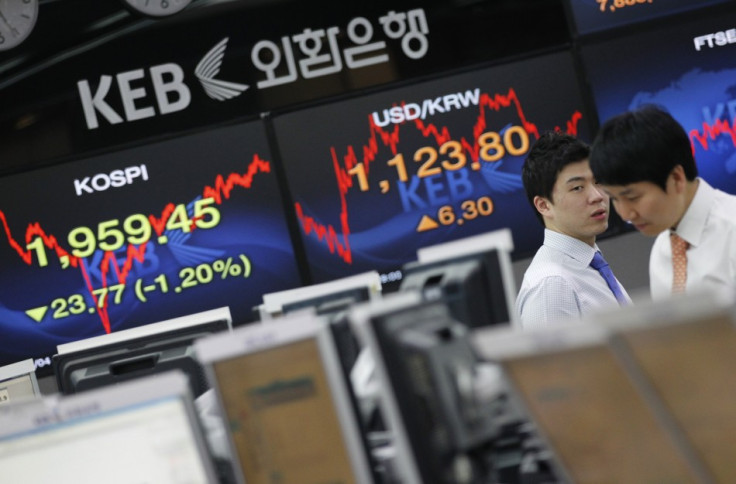 Most Asian markets gained from better-than-expected growth data from South Korea ahead of a Bank of Japan policy meeting scheduled for Friday.
Japan's Nikkei Stock Average rose 0.1 percent or 19.4 points to 13,862.9. South Korea's KOSPI gained 0.4 percent or 8.50 points to 1,943.5.
The Shanghai Composite index shed 0.8 percent or 17.89 points to 2,200.9. In Hong Kong, the benchmark Hang Seng index rose 0.3 percent or 73.83 points to 22,261.5.
The Australian market is closed for a public holiday.
South Korea's economy grew the most in two years in the first quarter, expanding 0.9 percent from 0.3 percent in the fourth quarter. On a year-over-year basis, GDP growth rate was unchanged at 1.5 percent. Analysts expected a 0.7 percent quarterly and a 1.4 percent year-on-year growth.
During the quarter, Korea's exports improved by 3.2 percent and imports rose by 2.5 percent, with petrochemical products boosting growth in both exports and imports.
The energy and pharmaceutical stocks led gains in Nikkei, despite little improvement in the yen's value against the dollar.
Japan's capital flows data showed that Japanese investors remained net sellers of foreign bonds. Big life insurers had earlier said that they remain cautious about immediately shifting their money out of Japanese government bonds into foreign bonds.
The decline in the China market was due to a slump in real and financial stocks.
Investors across the globe are expecting that a recent string of weak global economic data would prompt central banks to keep or increase their monetary stimulus measures to encourage growth.
The US government is scheduled to report its first-quarter GDP on Friday. The world's largest economy is widely expected to post a significant rebound from the fourth quarter, when it recorded an annual growth of 0.4 percent.
Major Movers
Japan Petroleum Exploration rose 1.5 percent and JX Holdings gained 0.8 percent as crude-oil futures in New York gained overnight. Shares of pharma major Daiichi Sankyo advanced 1.3 percent after a Nikkei business daily report projected a 10 percent increase in the company's current-year operating profit. Rivals Astellas Pharma and Takeda Pharmaceutical added 0.4 percent each.
Korea's Daiyang Metal surged 13.8 percent, food-maker Dongwon Industries gained 12.9 percent and home furnishings company Enex rose 9.8 percent.
Hong Kong-traded shares of China Minsheng Banking surged 4.1 percent after the lender reported a double-digit increase in first-quarter profit. Energy companies China Petroleum & Chemical and PetroChina gained 1.7 percent and 1 percent respectively, ahead of their first-quarter results.
In China, industrial major China Erzhong Group Deyang Heavy Equipment fell 4.9 percent, Shandong Lukang Pharma declined 3 percent and Hareon Solar Technology shed 1.9 percent.
© Copyright IBTimes 2023. All rights reserved.