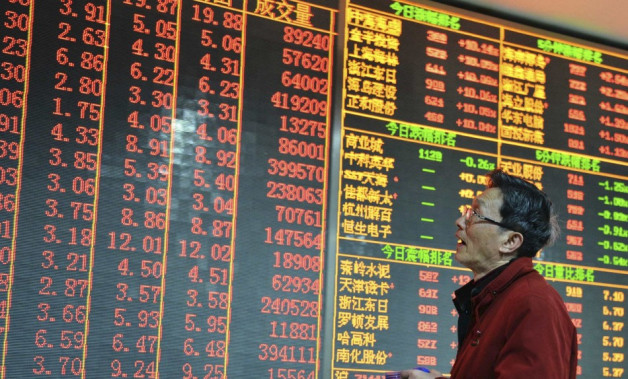 Most Asian markets except Japan's Nikkei inched higher in the morning, but investors remained cautious after a weaker-than-expected US manufacturing data sparked concerns on economic recovery.
Australia's S&P/ASX 200 rose 0.2 percent or 9.70 points to 4976.2 while South Korea's KOSPI was up 0.02 percent or 0.38 points to 1996.4. Japan's benchmark Nikkei average index fell 1 percent or 115.48 points to 12019.5.
China's Shanghai Composite Index gained 0.4 percent or 9 points to 2243.4. Hong Kong's Hang Seng added 0.3 percent or 65.23 points to 22364.9.
The Institute of Supply Management's (ISM) factory activities index showed that manufacturing in the world's largest economy accelerated at a slower pace in March compared to the previous month. The gauge fell to 51.3 from 54.2 in February.
The lower-than-expected data, which came after a host of recent improved economic indicators that spurred sentiments, weighed on US stocks. The S&P 500 fell 0.5 percent while Dow Jones Industrial Average was down 0.04 percent.
"The weak manufacturing ISM points toward softening activity at the end of Q1 and reinforces concerns that the fiscal tightening may adversely affect growth in the remainder of the year," Barclays Capital said in a research note, according to Reuters.
"Weak international growth, coupled with a strong dollar and a decelerating ISM in the U.S., could set up weaker sentiment heading into the 2013 first quarter earnings season."
The yen firmed during the day, gaining to a one-month peak ahead of Bank of Japan's policy meet scheduled for the week. Analysts expect the newly appointed BoJ governor Haruhiko Kuroda to announce aggressive monetary easing measures, in line with Prime Minister Shinzo Abe's pro-stimulus approach.
Major Movers
Utility firms traded lower in Tokyo. Shares of Kansai Electric Power Company were down 5.4 percent while Tokyo Electric Power Company 4.9 percent. Some of the major Japanese exporters were also down. Camera-maker Nikon fell 4.8 percent while Yamaha Corp was down 4.4.
Resource stocks traded higher in Hong Kong. PetroChina was up 2.2 percent while CNOOC gained 0.8 percent.
Some of the major South Korean exporters also traded higher. Automobile major Kia was up 1.3 percent while technology heavyweight Samsung Electronics added 1.3 percent.