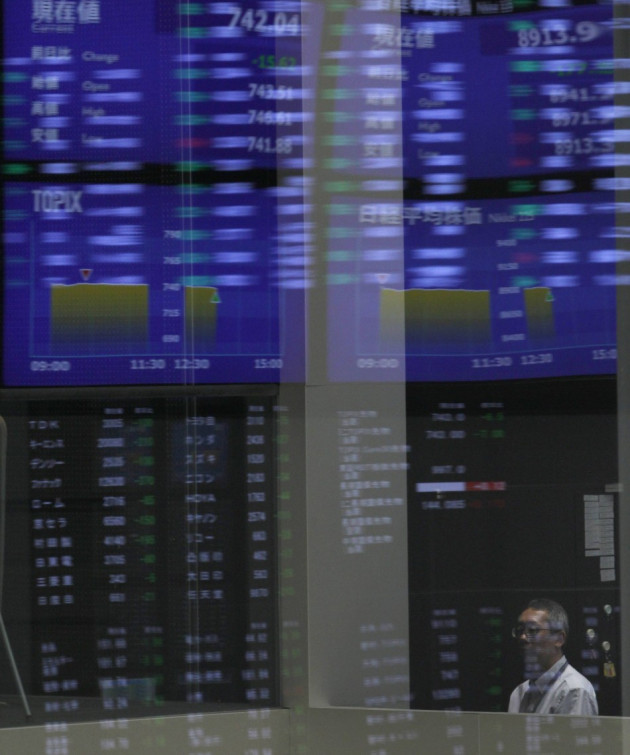 Asian indices, except the Nikkei, ended in the green after a week that saw mixed reactions from investors as concerns on Eurozone lingered amid better US job data and signs of improving Sino-Japanese relations.
The market opened cautious this week ahead of the European finance ministers' meets to discuss the region's debt crisis. Concerns regarding Spain and the Greece weighed heavily on investor sentiments as both the countries struggled to enforce tough austerity measures in the midst of fierce public protests.
The World Bank stoked the concerns further by downgrading its growth estimates for East Asia and Pacific countries citing the impact of an ailing eurozone economy, while the International Monetary Fund (IMF) cut its global growth estimates to 3.3 percent from 3.5 percent.
But investors were encouraged on expectations of further monetary easing from China after both the IMF and the World Bank predicted that the growth in the world's second largest economy will slow down to 7.8 and 7.7 percent this year.
Not disappointing investors, the People's Bank of China announced plans to inject 265 billion yuan into the country's financial system through reverse purchase agreements. Markets in Hong Kong and mainland China rallied on the news and were further encouraged after the central bank's governor, Zhou Xiaochuan, said that the bank remained flexible to support the economy in the wake of falling global demand.
But the positive sentiments failed to reach Tokyo and Seoul as investors in both the export-dependent economies remained wary of the gloomy world financial outlook.
Fears of US corporate quarterly earnings also influenced the market mood as major companies such as Hewlett Packard and Caterpillar had predicted a drop in earnings.
The IMF came into the picture again with reports that Spain's economy may contract 1.3 percent in the coming year. Rating agency Standard and Poor's underscored the concerns by cutting the country's credit rating to BBB-minus, just a notch above "junk".
Japan's issues with China continued to plague the Tokyo market as major automobile firms reported a decline in China sales. Official reports also said that the country's machinery orders fell 3.3 percent in August, as business sentiments remain weak.
Market sentiments picked up towards the second half of the week after the US labour department said that weekly jobless claims had seen a 30,000 drop in the previous week.
Investors cheered further after Japanese and Chinese officials agreed to hold bilateral talks on the territorial dispute, following warnings from Japanese Prime Minister Yoshihiko Noda that the issue could be detrimental to both countries.
However, marketmen remained cautious ahead of Chinese trade data expected over the weekend, followed by inflation data in the coming week.