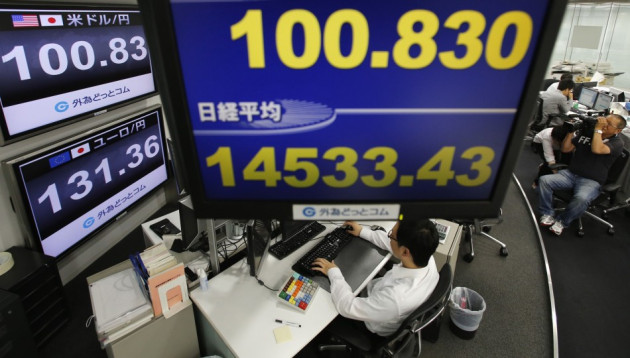 Most Asian markets advanced last week with the Nikkei surging on the back of the yen's continued weakness, touching the psychological 100-yen mark against the US dollar for the first time in four years.
The Nikkei, which was closed for a public holiday on Monday, rose 3% during the remaining trading days to close at 14,607.5. On Friday, the index rose 2.9% following robust job data from the US that helped the US dollar to climb against its all 16 major peers.
Thursday's weekly jobless claims data along with last Friday's robust non-farm payrolls report fuelled concerns that the Federal Reserve may scale back its asset purchases.
After breaking the 100-yen mark in US trade, the dollar rallied further in the Asian session and is currently trading at 101.62, up 1.02%. The dollar has gained more than 16% against the yen so far in 2013.
The dollar's rise toward the 100-yen mark had accelerated after Japan's central bank unveiled a massive stimulus programme earlier in April.
Australia's S&P/ASX 200 closed at 5,206.1, rising 0.8% during the week. Earlier this week, the Reserve Bank of Australia unexpectedly cut its key interest rate by 25 basis points to a record low 2.75%, citing slow economic growth and below-trend inflation in the country. The central bank also cut its 2013 inflation forecast, seeing the level at about 2.25% compared with its previous view of 2.5%.
Meanwhile, Korea's Kospi declined 0.9% to 1,944.8 for the week due to the surge in rival Japanese markets.
The won depreciated 1.3% against the dollar, the most in three months, due to speculation that the South Korean authorities will resort to policies supporting depreciation of the currency. In line with the continued weakness of the yen, the Bank of Korea lowered its benchmark rate from 2.75% to 2.5%, the first cut in seven months.
China's Shanghai composite was up 1.4% during the week to close at 2,246.8, while Hong Kong's Hang Seng rose 1.7% to 23,321.2.
The Chinese central bank earlier said that it would undertake flexible policies to support the economy, soothing investor worries of rising inflation.
The Week Ahead
In the US, reports on April retail sales and industrial production are due to be released this week. The producer and consumer price data for April is expected to show that price pressures have eased further in the country.
On Thursday, Japan will release its first official estimate of first-quarter gross domestic product. On Monday, China will release its data on industrial production, retail sales and fixed asset investment for April.