Asian Markets Weekly Review: Indices Witness Mixed Trade in 2013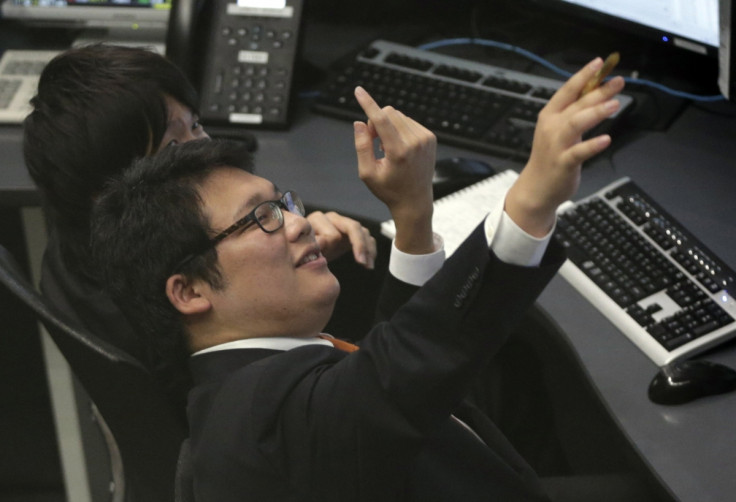 Asian stock markets witnessed mixed trade in 2013. The Japanese Nikkei share average led the pack with massive gains and the benchmark Shanghai Composite index trailed.
Year-to-Date Market Movements
The Japanese Nikkei index ended 51.37% higher at 16,178.94.
Australia's S&P/ASX 200 finished 13.14% higher at 5,324.10.
India's S&P BSE Sensex finished 9.1% higher at 21,193.58.
Hong Kong's Hang Seng ended 0.29% lower at 23,243.24.
South Korea's Kospi finished 1.42% lower at 2,002.28.
The Shanghai Composite index ended 7.72% lower at 2,101.25.
Weekly Trading
Most markets traded higher on 23 December, following record closes on Wall Street during the week ended 21 December.
Financial markets in Japan remained closed for the Emperor's Birthday public holiday.
Thailand's benchmark SET index traded lower after anti-government protestors said they would shun mid-term elections. Prime Minister Yingluck Shinawatra had scheduled a snap poll for 2 February in an effort to calm the unrest.
Elsewhere, in China, higher borrowing costs continued to worry market players. The benchmark seven-day repo rate shot up to 9.6% on 23 December despite central bank intervention on 19 December.
"The issue of tighter interbank liquidity has been a key focus a few times this year and given the seasonality this should not surprise anyone, but with the lack of major weekend newsflow, perhaps this issue has been given greater attention from markets than it would have done otherwise," Chris Weston, chief market strategist at IG told CNBC.
Markets outside Australia traded higher on 24 December, led by Japanese stocks that struck a new six-year high.
In China, the cash-crunch eased as the benchmark 7-day repo rate opened at some 5.5%, lower than the previous day's 9% high, after the People's Bank of China (PBOC) infused $4.7bn through open-market operations.
Markets outside Japan and China were closed for Christmas on 25 December.
Most markets traded higher on 26 December, when the Japanese Nikkei struck a fresh six-year high.
However, mainland Chinese equities dropped on renewed liquidity-crunch worries.
Elsewhere, markets in Australia and Hong Kong were closed for the Boxing Day holiday.
The majority of Asian markets gained on the final trading day of the week, with the Japanese Nikkei logging its highest close in six years on the back of a weak yen, and followed Wall Street's powerful performance overnight.
In China, the yuan struck a record high against the US dollar after the central bank fixed the currency's mid-point at its highest level since the 2005 revaluation.
Data from Beijing showed that industrial profits rose an annual 9.7% in November, slower than the preceding month's 15.1% gain.
China's economic growth is expected to hover at 7.6% in 2013, according to a cabinet report, a notch above the government's target of 7.5% and slightly below last year's 7.7% growth rate.
In Japan, the US dollar tested the 105 yen level for the first time in five years on 27 December.
Earlier, data from Japan showed that consumer prices rose 1.2% on an annual basis in November, beating expectations. The latest reading brings inflation closer to the central bank's 2% target.
Data from Tokyo also showed that retail sales grew 4% on-year in November, from October's 2.4% increase; while industrial production inched up 0.1% on-month.
Bank of Japan policymakers have agreed that a recovery in the world's third-largest economy would sustain into 2014, supported by an improving job market that is expected to spur consumer spending.
However, some officials expressed concern about the pace of growth, the minutes of the central bank's November meeting showed.
Earlier, upbeat US labour market data boosted Wall Street indices. Data showed that the number of Americans filing claims for government-sponsored unemployment benefits dropped 42,000 to a seasonally adjusted 338,000.
The Week Ahead
HSBC will release December's China manufacturing PMI data in the New Year.
The China Federation of Logistics and Purchasing will put out non-manufacturing PMI figures for the month of December.
Australia will release private sector credit data for the month of November.
UBS said in a note to clients: "We expect Asia to continue to grow fastest, at more than 6% in 2014 from 5.5% in 2013. Much will depend, of course, on the performance of China. Its trend growth has begun declining from its almost 10% pace of recent decades, and for 2014 we expect its GDP to expand by 7.8%."
"Rapidly rising Chinese residential property prices and/or broad inflation would force the central bank to tighten policy, which would hurt growth. But we think the government's policy fine-tuning will keep a lid on new credit and inflation."
"The second-largest emerging market, India, should accelerate from the near 5% it notched in 2013 to closer to 5.7% in the year ahead," the Swiss bank added.
© Copyright IBTimes 2023. All rights reserved.