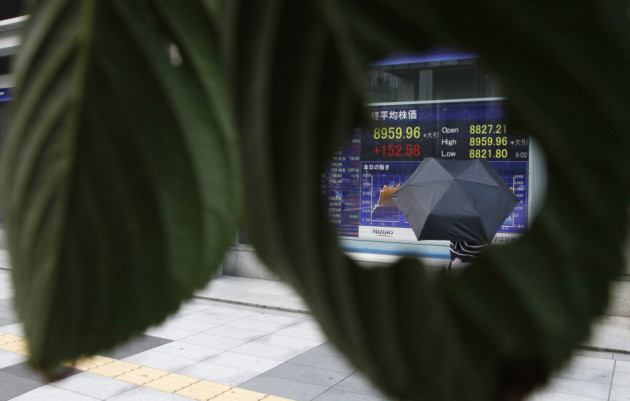 Asian markets closed in the green to end a week that saw better economic indicators from the US and renewed assurances from European Central Bank (ECB) on the eurozone debt crisis.
Trading activity was subdued early in the week as some of the major markets remained shut. Markets in Hong Kong remained closed for two days for the mid-autumn festival and national day while those in mainland China took the week off.
South Korea's KOSPI was closed for one day for the Korean Thanksgiving celebrations. Indian markets shut for a day as well, owing to a public holiday in the country.
The Hang Seng gained 0.8 percent in the week, while the Nikkei and KOSPI eased marginally by 0.1 percent.
The eurozone debt crisis continued to worry market players as Spain refused to opt for an international bailout even though the country's financial situation has been worsening. An independent stress test on the country's banking sector had revealed that the lenders required another 59.3bn Euro (£694mn) to stay healthy.
Greece was also in the picture as the country negotiated a bailout package on promises of strict austerity measures. Athens needed to secure the aid to contain its crisis to avoid a possible exit from the eurozone.
The territorial dispute between China and Japan weighed heavily on investor sentiments as the week opened. Automobile majors Toyota, Honda and Nissan fell as concerns increased on their performance following anti-Japanese sentiments in China.
Sentiments were further dampened after Bank of Japan's Tankan survey showed that major businesses in the country were pessimistic about their prospects. Chinese manufacturing activity data also failed to cheer investors as the purchasing managers index (PMI) remained in contractionary territory.
Most markets rebounded following better economic indicators from the US. The world's largest economy posted better than expected service sector purchasing managers index and nonfarm employment data.
September sales of new cars in the US were also up on better performance from major Japanese automobile companies, sparking hopes of revival in the industry. Shares of Toyota and Honda rose in Tokyo after posting higher US sales numbers.
The positive signs further increased expectations of better figures in the US payrolls and unemployment data released towards the end of the week.
The ECB's Mario Draghi boosted markets as he said that the central bank has "fully effective backstop mechanism in place" to aid the ailing European nations. He said the Spanish government had made significant efforts in containing its finances, but more had to be done.
The positive sentiments in Japanese markets took a hit towards the end of the week after the Bank of Japan announced that it will keep its interest rates unchanged. Although the decision was in line with market expectations, the yen strengthened against the dollar sending the shares of electronic and automobile firms down. But the index managed to pick up on global economic hopes.