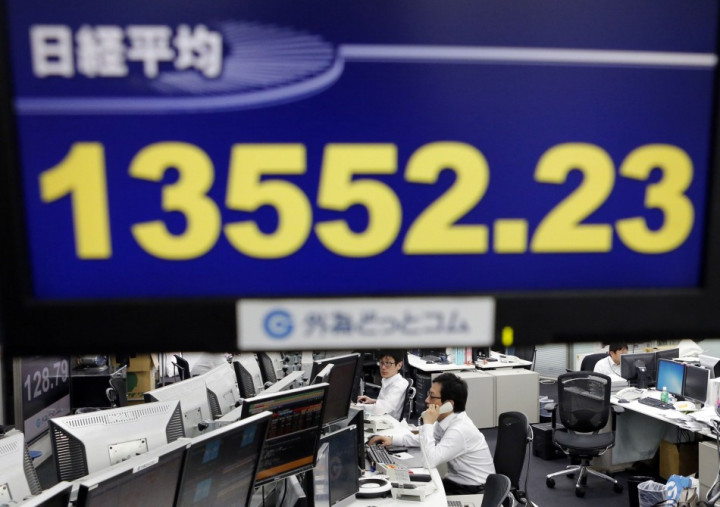 Asian markets have advanced after the yen's weakness helped Japanese exporters in early trade and increased sales in new homes in the US prompted a rally in Wall Street shares overnight.
Japan's Nikkei Stock Average rose 1.3 percent or 173.97 points to 13,703.6, heading for its highest close since June 2008. South Korea's KOSPI declined 0.8 percent or 14.74 points to 1,911.6. Australia's S&P/ASX 200 advanced 1.4 percent or 71.57 points to 5,087.8.
The Shanghai Composite index gained 0.2 percent or 5.02 points to 2,189.6. In Hong Kong, the benchmark Hang Seng index rose 1 percent or 209.97 points to 22,016.6.
The yen has earlier fallen as low as 99.77 against the US dollar, boosting the share value of Japanese exporters. The currency retreated later and is currently trading at 99.33.
The yen is still struggling to cross the symbolic 100-mark against the dollar, but traders expect the upcoming Bank of Japan meeting on Friday could provide a chance.
The headline index for small business confidence in Japan dipped slightly to 49.4 in April from 49.7 in March, but that was better than the forecast of 48.8 made by the firms last month. The companies expect an improvement in business conditions in May.
Earlier, the European and the US stock markets advanced on strong earnings and on confirmation that the US home sales is in solid recovery. In the US, sales of new home sales rose 1.5 percent, the strongest growth since 2008, compared to a 4.6 percent decline in February.
A false report of explosions at the White House from the hacked Associated Press twitter account wiped $136bn from the S&P 500 in about two minutes. The benchmark gauge, however, recovered after the news service confirmed that the news was fake.
After the close of Wall Street, Apple shares gained 3.8 percent on better-than-expected second-quarter revenue.
Of the 147 S&P500 companies reporting earnings so far, 72.8 percent surpassed analysts' estimates, according Westpack bank.
Australia reported its first-quarter consumer price inflation, which rose less than the estimates of economists, allowing the central bank to go for further interest rate cuts. Following the report, the key mining and metal firms rebounded from previous losses.
Major Movers
In Japan, chemicals firms Tosoh and Ube Industries gained 11 percent and 7.2 percent, respectively. Mitsubishi Motors rose 7.6 percent and autoparts maker JTEKT surged 7 percent.
Hong Kong conglomerate Hutchison Whampoa gained 2.9 percent, while property developers China Resources Land, Hang Lung Properties rose 2.7 percent and 2.1 percent, respectively.
In Australia, shares of Rio Tinto added 1.9 percent and Alumina rose 2.6 percent, while Commonwealth Bank of Australia advanced 1.1 percent.