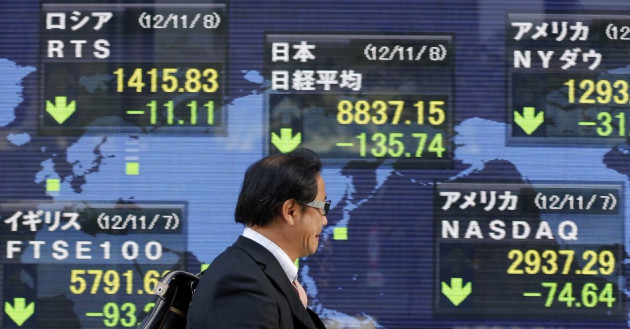 Most Asian markets slipped in the morning session as the US 'fiscal cliff' fears returned after talks appeared to hit more roadblocks and Japanese traders awaited a central bank decision.
The Nikkei average traded 1.03 percent or 104.91 points lower to 10055.49 while South Korea's KOSPI was up 0.28 percent or 5.59 points to 1998.68. China's Shanghai Composite Index slipped 0.11 percent or 2.45 points to 2159.79. Hong Kong's Hang Seng fell 0.29 percent or 65.61 points to 22557.76.
US stocks had closed lower overnight as the latest comments from lawmakers dampened hopes of a deal to avert the $600bn spending cuts and tax hikes that threaten to sink the economy into recession. In a press conference, President Barack Obama lashed out at Republicans who claimed that they find it tough to accept his plans. The Republican House of Representatives John Boehner, on his part, called the president "irrational".
"The Republicans' Plan B to tax just those with a household income of above US$1 million was rejected by Democrats as negotiations fail to get nasty," said Jason Hughes, Head of Premium Client Management at IG Markets in Singapore.
"Global markets were humming along to a tune of goodwill and optimism that politicians could agree on a solution to avert $600 billion of tax hikes and spending cuts due to kick-in in less than two weeks. But as time begins to run out, traders begin to get very nervous."
Bank of Japan (BoJ) is set to meet for a policy review later today. Investors are hoping that the central bank will initiate further stimulus measures to boost the country's lagging economy. The newly elected Liberal Democratic Party (LDP) is also expected to put pressure on BoJ to take action.
South Korean traders remained upbeat as the country elected its first woman president Park Geun-hye, extending the term of the strong pro-American ruling party. Voters seemed to prefer stability rather than sharp changes that her opponent had stood for as the global economy continues to show signs of weakness.
"This is a victory for the people's wish to overcome crises and revive the economy," Park told her supporters.
Major Movers
Exporters fell in Tokyo. Automobile firms Nissan and Mitsubishi Motors were down 6.75 and 6.59 percent respectively. Electronic major Citizen Holding dropped 4.04 percent while Canon fell 3.04 percent.
Some of the major metal firms were down in Hong Kong. Aluminum Corp of China fell 2.80 percent while Jiangxi Copper was down 1.92 percent.
Apparel and textile related firms gained the most in Seoul. Shares of Shinwoo Company were up 15 percent while SG Corp gained 14.98 percent.