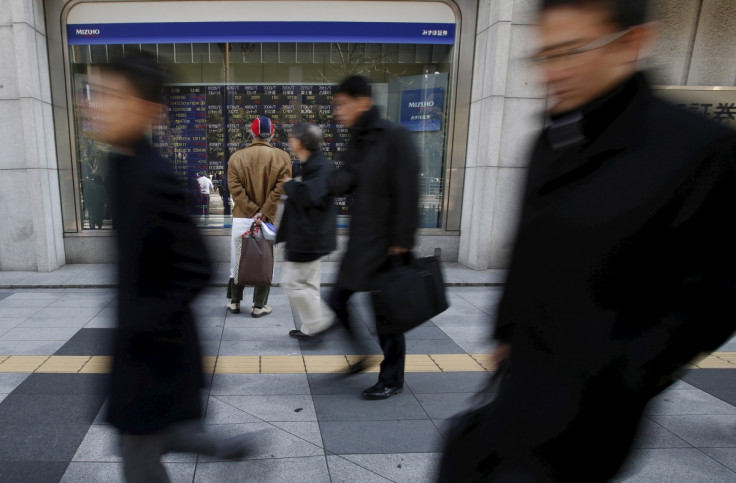 Most stock markets across Asia were in negative territory on 12 May following overnight losses on Wall Street.
Tokyo's benchmark Nikkei share average was down by 0.4% at 19,890.77 points in the afternoon session.
Stock markets in the US were in the red across the board on 11 May following worse-than-expected quarterly results from department store chains Macy's and Kohl's.
The Dow Jones industrial average closed 0.1% lower while the tech-heavy Nasdaq share average was 0.2% down.
Shares of Snapchat tumbled 21% after the messaging app reported a slowdown in user growth and revenue in its first results as a publicly-listed company.
Investors were also unnerved by heightened political uncertainty in Washington after US President Donald Trump said it was his decision alone to sack FBI Director James Comey, whom he called a "showboat" and "grandstander".
Comey was leading a probe into alleged ties between Trump's election campaign officials and Russia.
Analysts said Comey's surprise sacking could have negative consequences down the road for Trump's plans to expand infrastructure spending.
"Will it cause a delay or roadblock associated with some of the stimulus measures on the administration's agenda?" Bill Northey, chief investment officer at US Bank, told Reuters.
Rest of Asia
Mainland China's Shanghai Composite index was up by 0.5% to 3,076.29 points, while Hong Kong's Hang Seng edged up 0.1% to 25,148.27.
In South Korea, the Kospi benchmark index fell 0.5% to 2,286.02 points after official data showed that the country's jobless rate climbed to 4% in April from 3.7% in March.
Elsewhere, Australian Treasurer Scott Morrison said he would press on with plans to levy a tax on the country's five biggest banks from 1 July, despite warnings that the banks may pass on the costs of the levy on to customers.
Labor leader Bill Shorten said he would back the tax on ANZ Bank, Westpac, National Australia Bank, Commonwealth Bank and Macquarie, which is expected to raise A$6.2bn (£3.5bn) over the next four years.
Sydney's S&P/ASX 200 benchmark declined 0.7% to 5,836.90 points.