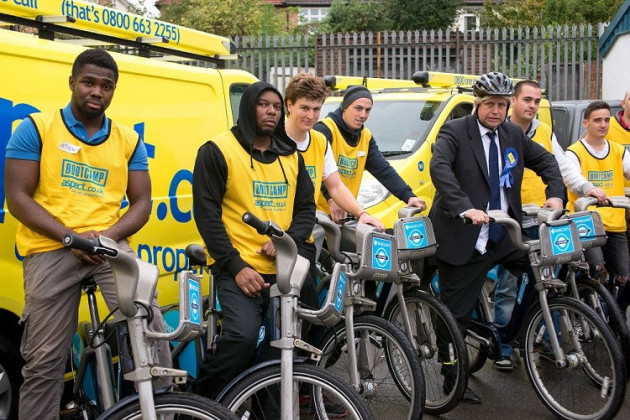 A property company has defended making young unemployed people take part in a bootcamp competition to win an apprenticeship, complete with a 'Boris bike race' with a Mayor of London impersonator.
Aspect.co.uk, a property maintenance company, were accused of being "hideously exploitative" and showing a "deep lack of respect" for making applicants go through a series of physical exercises to win an apprenticeship.
The applicants were also asked to take part in a "gimmick" bike race involving a Boris Johnson look-a-like.
The bootcamp scheme to win an apprenticeship was introduced by Aspect.co.uk last year as an attempt to change young people's "poor attitude to work".
As well as a series of physical tests - including the bike race - the bootcamp also had literacy and numeracy "drills" as well as a picture frame construction test.
However, charities and organisations condemned the practice.
Joanne Birch-Phaure, senior communications officer for young person's charity UK Youth, told the Huff Post UK: "Asking young people to go the extra mile in pursuit of a role is one thing if it demonstrates the skills they will need to do the job in question. Using them for publicity or amusement in this kind of mercenary way is hideously exploitative.
"The company involved should drop this stunt or answer just how this helps them select a suitable candidate whilst being sensitive to those who are unsuccessful."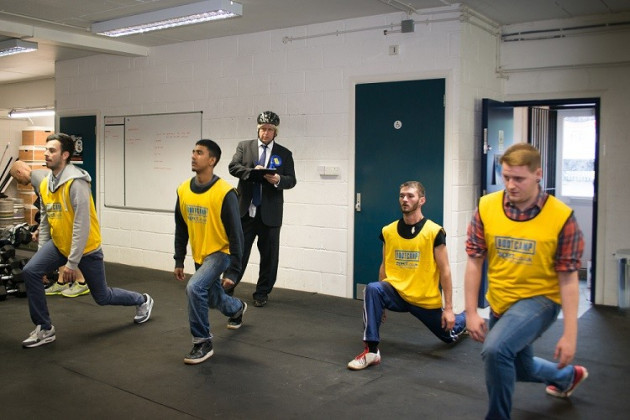 A spokesperson for charity Tomorrow's People added: "This type of gimmick doesn't reflect well on Aspect as an employer and the company's approach to recruitment shows a deep lack of respect for young people and the determination that the vast majority show to get onto the employment ladder."
Managing director Will Davies defended the bootcamps as a way to get young people "off their backsides and back to work".
He said: "Political correctness needs to be left at the door in relation to young unemployed. The plight facing young people is so immense in terms of job prospects that you need to have a sense of humour. Aspect have been diligently organising bootcamps for two years and filling apprenticeship roles.
"Organisations that are levelling criticism at us for showing some initiative and a little sense of humour to lighten the atmosphere need to think again."
Davis added the Boris bike ride was merely an opt-in session for any applicants who "who wanted to have a laugh".
He added: "It did not get in the way of the serious drills in terms of numeracy, English language and physical stamina tests which generated our two winners."
The scheme echoes an incident where a university graduate was "embarrassed and uncomfortable" after being asked to dance during a job interview for Currys.
Alan Bacon said he was left feeling "degraded and humiliated" after being asked to dance to a Daft Punk song in front of a room full of strangers during his interview. Currys later apologised for the incident.