Aston Villa striker Christian Benteke fit for Liverpool FA Cup semi-final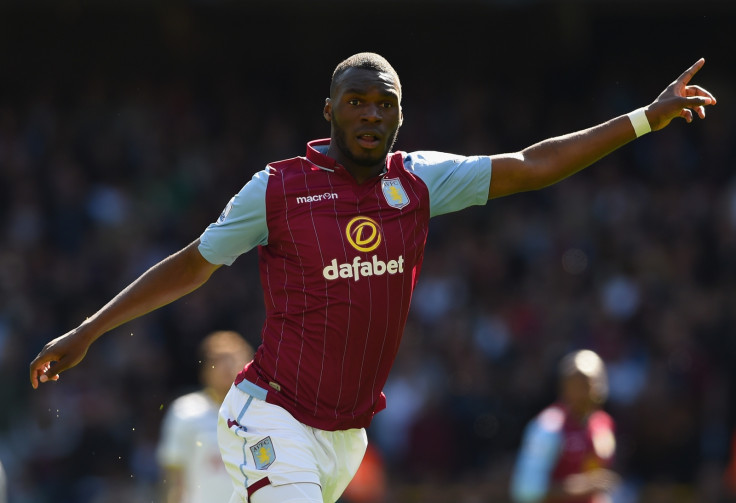 Aston Villa striker Christian Benteke has warned FA Cup semi-final opponents Liverpool he is fully fit for the Wembley showdown after scoring eight goals in his last six appearances.
The 24-year-old has suffered from several injury concerns this season, delaying his start to the campaign due to an achilles problems which ruled him out of the World Cup while the forward has also been restricted by a hip issue.
But a recent run of good form, which has seen Benteke lead Villa's survival challenge including scoring the winning goal at Tottenham Hotspur, means he enters the semi against Liverpool in the best form of his career.
"[New manager Tim Sherwood] has given me a lot of freedom and he has said to the other lads to play maybe more direct with me," said Benteke. "When a manager says that, you feel more important, more responsible.
"The way that we play now is comfortable for me because I'm scoring and also for the team because I help the team. [Gabriel Agbonlahor] helps me destroy the defenders. With two we're always better than one."
He added: "I still think I can do more, in everything. I can't say I'm happy to be there now, I want to do more and more and more.
"I'm scoring at the moment and now I play the way I want to play. Now I have more chances and I'm fully fit, that's why I'm happy. First, I came back early from my injury, so I worked hard to be back on the pitch.
"I think I was a little bit tired in my body but now I am feeling very good. So that's why I am performing now.
"Before I didn't get enough service and I wasn't fit enough. I knew I would need time to be fit again. The confidence of the team was a little low so it was hard for everyone, so I can understand."
On the eve of the game, former Liverpool strikers Neil Mellor and John Aldridge have urged the club to sign Benteke in the summer to solve some of their own attacking problems.
The ex-Genk forward continues to be linked with a move away from Villa Park and Benteke admits ahead of the showcase semi-final that his future is uncertain as the season draws to a close.
"I don't know," said Benteke responded to questions about his future. "The first thing I want is to be safe and then go on holiday, because it is a long time since I've had a holiday. After that, we will see what happens."
© Copyright IBTimes 2023. All rights reserved.