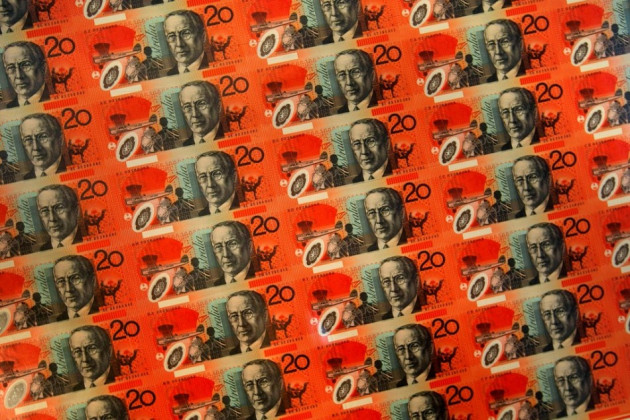 The Australian dollar, the world's fifth-most traded currency, dropped to a more than three-and-a-half month low after reserve bank governor Glenn Stevens called for a weaker currency, and upbeat US economic data boosted the greenback.
The Australian dollar dropped to 89.14 US cents on 13 December, after Stevens said a level of 85 cents "would be closer to the mark than 95 cents," in an interview published in the Australian Financial Review on 13 December.
The currency pared losses and traded at 89.26 US cents at 17:02 hrs in Sydney.
The Australian dollar has lost 1.9% in the five days to 13 December. In addition, the week ending 14 December marked the eighth-consecutive week of decline for the currency, the longest stretch since March 1985.
Stevens told the newspaper that a weaker Australian currency was preferable to lower interest rates, to help boost the nation's slowing economy.
The central bank chief will address the House economics committee on 18 December, the day the US Federal Reserve announces its monetary policy decision.
Upbeat US retail sales data could force the Fed to start trimming its $85bn-a-month bond buying stimulus as early as next week.
"The RBA appears to have made a strategic decision in mid-October that they could get the Aussie down and they should try and get it lower as they downgraded their view of the resource sector," said Greg Gibbs, a Singapore-based strategist at Royal Bank of Scotland (RBS).
"They have sent a message and the currency has reacted. The real risk by saying 85 cents is that the market feels more comfortable with the currency around current levels," Gibbs told Bloomberg.
Credit Agricole CIB said in a note to clients: "The subsequent reaction in Aussie short-rates suggests markets have interpreted Steven's comments as further easing remains on the table unless AUD weakens further. Indeed unless the AUD moves swiftly lower next week (eg. towards this RBA-defined level), markets are likely to re-price a January rate cut."
"[The Aussie] is therefore likely to remain under pressure in coming days and especially ahead of the Fed meeting next week. For those not wishing to add further USD longs (eg, via AUD/USD shorts), an attractive alternative is to short AUDNZD. This trade is clearly attractive given contrasting RBA and RBNZ policy profiles", the French bank added.
The RBA left its cash rate unchanged at a record low 2.5% on 3 December, when Stevens said the currency remained "uncomfortably high" and that "a lower level of the exchange rate is likely to be needed to achieve balanced growth in the economy".