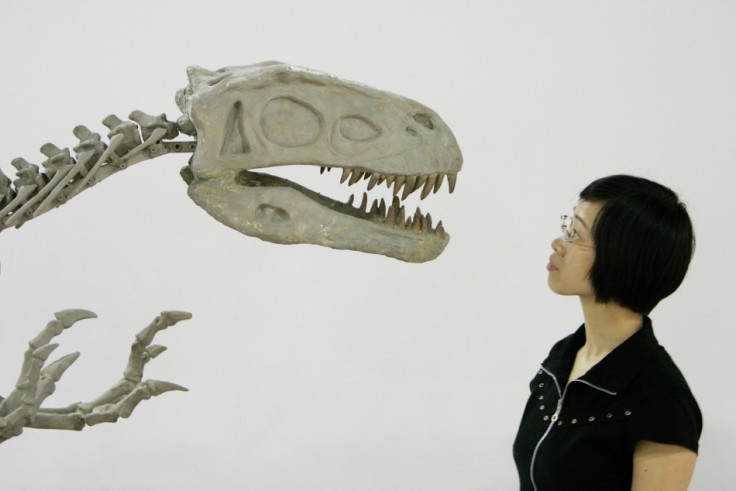 Palaeontologists have discovered the fossilised remains of a giant herbivorous dinosaur which date back more than 100 million years in north-west Queensland, Australia. The bones belong to what is believed to be an Austrosaurus mckillopi – a 15-metre-long land-based herbivore which walked on all fours and roamed the Earth around 104 million years ago.
The new discovery builds on findings from 1932 when a worker in the area stumbled across a mysterious set of bones. The bones were sent to Queensland Museum but they were unable to know more about the species due to the lack of fossils.
Palaeontologists recently returned to the site for clues on the mysterious species, and unearthed more fossils which completed the puzzle. Timothy Holland, curator of Kronosaurus Korner, a museum at Richmond, Australia, told ABC.net.au: "Attempts to find more of the original Austrosaurus specimen in the 1970s and 1990s were unsuccessful, which led to the assumption that the site was lost, and along with it, the chance to learn more about Austrosaurus.
"We went back and did a full-scale dig at the end of July this year. We took a backhoe with us - I guess the thinking was that some of the bones had started working their way up through the black soil over time. We were hoping to use this backhoe to carefully scrape away the top of this black soil where we found some of these smaller chunks of bone to uncover fossils that were probably about one to two metres underneath the ground, where they hadn't starting breaking apart and coming to the surface, where they were in better condition.
"About 1.5 metres we started finding this really nice run of rib bones some of them very large, about 1.6 metres in length. It was so exciting to see this wonderful glossy pinky-white bone coming up to the ground and knowing we were the first people to see these bones ever and it likely belonged to a specimen that played a big part in Australian palaeontological history."