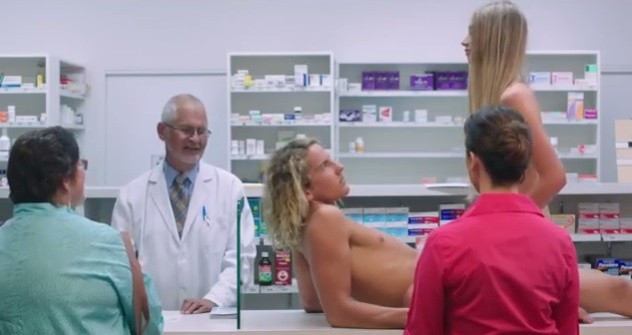 A condom advert showing sex has been banned from Australian TV for being too graphic.
The promo, produced by Four Seasons Condoms, features a young couple inquiring about condoms at a pharmacy.
In a bid to find the ideal contraceptive, they try out different sizes of the Naked condom.
One scene in the tongue-and-cheek clip depicts the pair having sex on the counter while talking to other customers, while another shows the woman talking to her mother on her mobile while they have sex on the pharmacy floor.
Australia's Commercial Advice (CAD) pulled the advert and asked the sexual scenes to be removed.
According to the company's founder and managing director Graham Porter, the promo was created to have some shock value.
"To connect with the younger demographic, you need to be irreverent and entertaining and to remove all sexual references in the TV ad defeats the purpose of this entire campaign. The fact is this is a critical safe sex message," he said.
The ad was posted online instead with the caption: "See why our commercial has been banned from television."
It has already proved a big hit on the internet, receiving over a million hits on Youtube.
"hahahahahaa 'come again' totally get it ," one viewer wrote.
Another wrote: "This is brilliant and banned from TV which means it will go viral on the web. #viral #commercial."