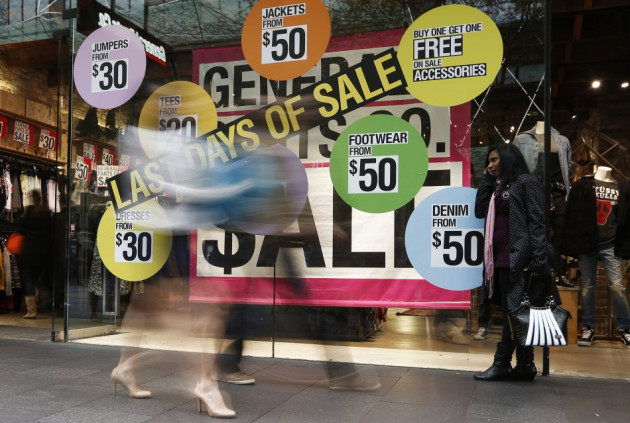 Australian consumer confidence in the country's economic activity has bounced back in June, after falling sharply in April and May, according to a survey.
The Westpac Melbourne Institute Consumer Sentiment Index rose 4.7% in June from 97.6 in May to 102.2 taking the index back over the 100 level indicating that optimists now outnumber pessimists.
Economists said the Australia's central bank decision to keep the cash rate unchanged at 2.75%, post its 4 June meeting, boosted consumer confidence.
But despite the June recovery, consumer confidence still remains 8.2% lower than its peak, earlier this year, the survey showed. Westpack MI polled 1,200 Australians aged over 18 between 3 June and 9 June, 2013.
The survey report said that Australian consumers seem ready to make major purchases such as buying a house.
The sub-index tracking views on "whether now is a good time to buy a major household item" posted a 3.7% gain in June, the only sub-index at high overall levels above historical averages. Separate indexes tracking views on 'time to buy a dwelling' and 'time to buy a car' were stronger with both largely unchanged at 20 points and 16 points above their respective long term historical averages.
"Clearly consumers see this as an opportune time to make major purchases or enter the housing market, likely reflecting the low cost of finance and comparatively good affordability," says Westpac senior economist Matthew Hassan was quoted as saying in the report.
"However concerns about the economic outlook are likely discouraging many buyers from going ahead with actual purchase decisions," Hassan said.
All components of the Consumer Sentiment Index recorded some improvement between May and June, but family finances posted the strongest gains.
The sub-index tracking assessments of 'family finances vs a year ago' rose 8.5%, more than reversing the 8% drop in May while the sub-index tracking expectations for 'family finances over the next 12 months' rose 5.3%'.
But a "deterioration in consumer sentiment around prospects for the Australian economy, which has been a key underlying theme over the last three months, remains apparent," Hassan noted in the report.
Australia is suffering from a lower demand for its commodities, primarily in China, as it struggles to move away from mining-led growth.
The sub-index tracking expectations for 'economic conditions over the next 12 months' was up 3.8% after a heavy 13.8% fall in May; and the sub-index tracking expectations for 'economic conditions over the next five years' up just 3.2%.
"However, both remain sub-100 indicating a pessimist forward view on the economy," says Hassan.
Fears about the Australian economy "would have been underscored by the weak first quarter national accounts data, a sharp sell-off in the sharemarket (down 7% between the May and June surveys) and a slide in the Australian dollar (down 4¢ vs the US dollar between the two surveys), " Hassan said.