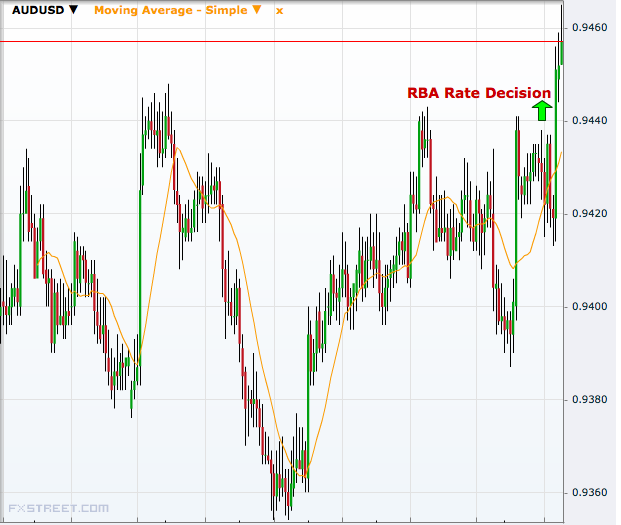 The Australian dollar jumped to an eight-month high on 1 July as the Reserve Bank of Australia (RBA) once again stated that what is required is stability in interest rates and expressed satisfaction over the inflation path.
The AUD/USD rallied to 0.9465, its highest since November 2013, from near 0.9435 where it was trading slightly before the policy was announced.
At its policy meeting, the central bank decided to leave the cash rate unchanged at 2.5%.
The market consensus was also for no change in the key rate but a section of the market was expecting more dovish statement given the strength in Australian dollar.
"Growth in wages has declined noticeably. If these and other domestic costs remain contained, inflation should remain consistent with the target over the next one to two years, even with lower levels of the exchange rate," the RBA said.
The central bank said the AUD/USD rate remains high but the comment was not as strong as the market had been expecting, setting off a rally in the currency.
"The exchange rate remains high by historical standards, particularly given the declines in key commodity prices, and hence is offering less assistance than it might in achieving balanced growth in the economy," according to the policy statement.
"Monetary policy remains accommodative. Interest rates are very low and for some borrowers have edged lower over recent months," the central bank said.
Overall US Dollar Weakness, China Signals
The broad weakness of the greenback after negative data surprises and dovish rhetoric by a Fed official late on Monday has also aided the rally in the Australian currency early Tuesday in Asia.
The June Chicago purchasing managers' index (PMI) fell to 62.6 from 65.5 in May, data showed on Monday. Analysts were expecting a moderate fall to 63.0.
"As things get better we can kind of get back to our normal approach to policy," San Francisco Fed President John Williams told members of the Utah and Montana Bankers Association, predicting full employment and normal inflation by the "early part" of 2016, Reuters reported.
"I still see that as some time off in the future," Williams said, adding that he still believes a rate rise will not be appropriate until the second half of 2015.
The US dollar index, the gauge for measuring the strength of the greenback against the currencies of the six largest trading partners of the US, dropped below the 80 mark and touched a 1-1/2-month low of 79.76.
Bullish data outcomes in China had already strengthened the case for an AUD rally, but the market opted to wait for the central bank policy.
Chine manufacturing PMI by NBS for June came in at 51.0, up from 50.8 in May, data showed on Tuesday. A separate release showed the HSBC manufacturing PMI rising to 50.7 from 49.4.
A reading below 50 shows contraction in activity.